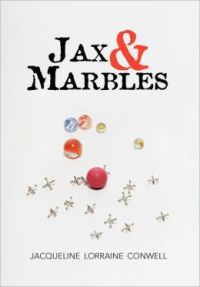 Jax & Marbles
by Jacqueline Lorraine Conwell
Genre: Fiction
Word count: 60, 216
Things in life don't always go as planned, especially when it comes to certain life events. That was something Julian and Alexia were learning the hard way. Passing away at a young age was something that had caught Julian off guard. Losing touch with her best friend had left Alexia feeling lonely and confused. Both felt alone in two completely different worlds, not sure if they would ever come across someone they could truly trust and depend on. But then one fateful evening, Julian was given the chance of a lifetime to fill an empty void in someone's life – while getting a second chance to live the one he'd lost.
This book is available from Amazon and Barnes & Noble.
Jacqueline, how did you come up with the title for your book? Does it have any special meaning? 
The title of the book came from the nicknames used in the book itself. It has special meaning to the main characters.
Who was your favorite character and why?
I'd have to say they're all my favorite characters. They've all been with me for so many years in stories that I've written before I actually published a book that they grew on me.
Does your book have any underlying theme, message, or moral? 
I didn't purposefully put an underlying theme, message, or moral in the book. But if the reader can pull something positive from it, then that's pretty awesome.
What would/could a reader or reviewer say about this book that shows they "get" you as an author? 
They could say that they're able to relate to one or more of the characters to some degree.
Give us an excerpted quote from your favorite review of this book:
"The author created a one-of-a kind book with an amazing story line! I can't wait to read the second book!" (Amazon.com – Review)
Where can people learn more about your writing? 
Facebook – The Toy Box Series