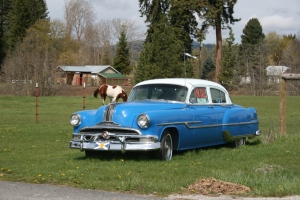 The car was a 1954 Pontiac. Her first owner was Bill Keenan, a newspaper reporter for the Kansas City Star.
Bill drove the car home and his wife met him out on the front steps and shot him dead. She'd found out about Bill and his secretary.
Now, you can say that didn't have anything to do with the car, and I guess you'd be right. Still, it seemed to have gotten the car off to a bad start. Over the years, she was owned by 13 people. Every one of those folks was murdered.
I don't really consider myself to be superstitious, but I don't see no reason to tempt fate, neither. That's why I tried to talk Eric out of buying the car. It was useless, of course. He was in love with the thing.
In 250 words or less, tell us a story incorporating the elements in the picture. The 250 word limit will be strictly enforced.
Please keep language and subject matter to a PG-13 level.
Use the comment section below to submit your entry. Entries will be accepted until Tuesday at 5:00 PM Pacific Time.
On Wednesday afternoon, we will open voting to the public with an online poll for the best writing entry accompanying the photo. Voting will be open until 5:00 PM Thursday.
On Friday afternoon, the winner will be recognized as we post the winning entry along with the picture as a feature. Then, at year end, the winners will be featured in an anthology like this one. Best of luck to you all in your writing!
Entries only in the comment section. Other comments will be deleted. See HERE for additional information and terms.