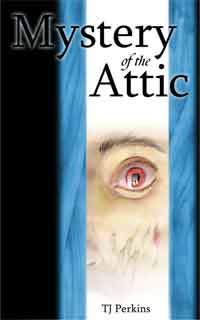 Melissa is just an average thirteen-year-old with a semi-average life until she moves into a nineteenth-century farmhouse.
There she discovers that the house is haunted by two ghosts – one good and one evil. With the help of her stepsister, they unravel an age-old mystery and solve an unsolvable crime; one that was never in tended to be solved. Evil hauntings attempt to prevent the girls from discovering the truth. It's a race against time and a battle of wits to see which will prevail – the living or the dead.
Mystery of the Attic, the young adult mystery by TJ Perkins, is available from Amazon, Smashwords, and Amazon UK.

Don't forget, you can cast your vote for trailer of the month on January 25, 2014 at 5 p.m. Pacific time.