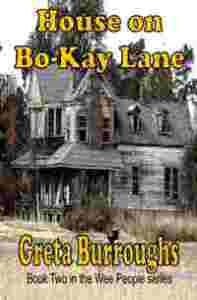 House on Bo-Kay Lane
by Greta Burroughs
Genre: MG/YA
Word count: 55,000
Gerald and Vernon believe their time with the wee people came to an end after they returned to their home world but begin to wonder when strange things started to happen at an abandoned house in their neighborhood. Ghostly images of familiar faces from the wee people village are seen in the windows, echoes of voices from the past haunt the boys' dreams and an undeniable curiosity draws Gerald and Vernon to investigate the mysterious haunted house. What they find takes them back to the world of the wee people and a new adventure begins.
In "House on Bo-Kay Lane", a mirror is found in a forgotten room in the far-seers' training center. Sheela, a far-seer master and Alyson, an apprentice firestarter are unwillingly drawn into the depths of the mirror and wind up in the abandoned house on Bo-Kay Lane. Sheela uses her telepathic skills to enlist the aid of Gerald, Vernon and Gerald's father, Andrew to help find the way back to the world of the wee people.
That problem resolved, they try to unravel the secrets of the mirror and find that it is a portal between their two worlds, as well as to a time in the future and possibly even to a parallel universe. They also discover that someone is trapped inside the mirror and the decision has to be made as to whether or not to help the trapped soul escape the confines of the portal.
This book is available from Amazon, Smashwords, and Barnes & Noble.
Greta, how did you come up with the title for your book? Does it have any special meaning?
We almost bought a house that was located on an isolated lot off a street called Bo-K Lane. I really liked the name and thought it would be perfect for the book I was thinking about writing at that time, so I stole it, modified it and used it.
Who was your favorite character and why?
I like George, the reformed evil forest god. He turned out to be a pretty nice guy and even a hero. When I first started the book, I had no idea what I was going to do with this character but he took on a life of his own.
Does your book have any underlying theme, message, or moral?
It is a coming of age story exploring relationships, trust and prejudice in a way that young people will (hopefully) obtain some positive insights without realizing they are being taught. It's the ex-teacher in me, I couldn't help it.
What would/could a reader or reviewer say about this book that shows they "get" you as an author?
I want readers to be entertained and appreciate the differences/similarities amongst the characters. I want them to be absorbed in the story and "see" the action as it take place. Most of all, I want readers to have a positive feeling and smile as they finish the last sentence.
Give us an excerpted quote from your favorite review of this book:
I really enjoyed the mysterious twists and turns and think young and old would to… recommend to anyone who likes a fun thrill ride filled with excitement and surprises.
Where can people learn more about your writing?
http://booksbygretaburroughs.weebly.com/