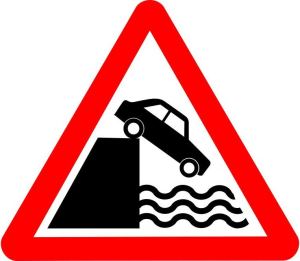 Back when I was a little teeny writer, I read a lot of Nancy Drew books. I loved them – they were stories about a smart and resourceful heroine who faced a little bit of danger that wasn't too graphic, and she always caught the crooks in the end.
But they aren't terribly well-written. Here's an example from The Bungalow Mystery. Nancy and her friend Helen are picked up by a girl named Laura, who is rowing them to safety in a storm when things take a dangerous turn:
Another zigzag streak of lightning disclosed the shore line more distinctly. A short distance out from the land and directly in front of their boat stood the ugly protruding nose of a jagged boulder!
End Chapter 1. What a cliffhanger! I need to keep reading! So I flip to Chapter 2 and – hey, look! They're still in the boat:
For an instant Nancy panicked. Would the girls be able to steer clear of the menacing rocks? A collision seemed unavoidable!
"We'll be killed!" gasped Helen.

"Row to the left, Laura!" Nancy commanded. "It's our only chance."
And in another paragraph or two, the girls have made it past the danger and all is well. My seven-year-old self was vastly relieved, I'm sure. But my fifty-something self is thinking: what a waste of a perfectly good cliffhanger!
(Simmer down, guys. I'm done with the exclamation marks now.)
Writing a cliffhanger at the end of a chapter is a great way to heighten the tension in your story and encourage your reader to keep going (well past their bedtime, even). But if you're going to do it, don't blow it. Here are a few tips for getting the most mileage out of a cliffhanger:
Change story lines. If your story has several plot strands, a good technique is to switch to another part of the plot. Say what you will about Dan Brown, but the guy is a genius at this. He'll trap Dr. Robert Langdon in an underground crypt with no way out, and leave him there for a chapter or two while he describes some gunman flogging himself with a cat o' nine tails or something.
Let some time pass "offstage." Nancy Drew is always the point of view character in her books, so changing story lines isn't going to work – there's no other story line to change to. But Laura could clunk her on the head with a paddle (accidentally or not), or Nancy could fall over the side – anything to make her check out for a bit. Or a flashback might work, depending on how it's handled.
At least switch scenes. If you want to end on a zinger in the middle of a conversation, okay. But don't do this:
Dana's eyes narrowed. "Enjoy your next breath," she growled. "It will be your last."

Chapter 2

Felix's hand flew to his throat. "Whatever do you mean, Dana, dear?" he cried.

"What I mean," she said menacingly, "is that you forgot to lower the toilet seat again."
What a waste, huh? I've seen this kind of thing in trad-pubbed books and it always makes me want to throw the book across the room. Don't be that author. And look out for those rocks!