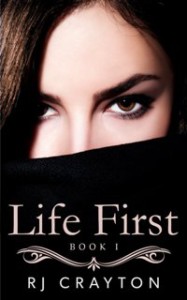 Life First
by RJ Crayton
Genres: dystopia, thriller, romance
Available from Amazon.
Strong-willed Kelsey Reed must escape tonight or tomorrow her government will take her kidney and give it to someone else. Kelsey enlists the help of her boyfriend Luke and a dodgy doctor to escape. If they fail, Kelsey will be stripped of everything.
Excerpt:
"Maybe, if I go willingly, there might be an opportunity for me to escape."

"No one's ever escaped from a holding facility," Luke spits. Then he pauses, reconsiders. "At least, not the way you mean."

I close my eyes. Suicides. Those have been the only escapees. And that was only in the beginning. Most inmates in long-term holding facilities go insane and are kept heavily sedated or straight jacketed. They can't stand the waiting, the knowing that at any moment, without notice, they'll be told they're dying today. That their heart is needed for a transplant to someone who puts life first. That their time here is done. That Life First, the mantra drummed into their heads since childhood, means nothing. The hypocrisy alone would drive one mad, let alone the prospect of being the human parts drawer society reaches into to cure its neediest patients.
What others are saying:
"It gripped you like King Kong and would not let go until you had finished the book." – BestChicklit.com