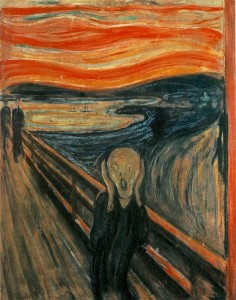 A couple of my Facebook friends have linked to this blog post that more or less equates the writing life with mental illness. The author of the post starts out by mentioning the notoriously troubled relationship between F. Scott Fitzgerald and his wife, Zelda (who probably had some type of mood disorder), and goes on to name a number of other writers who have battled depression, among them Sylvia Plath. He then suggests that writers tend to be unhappy people because they "think a lot," and also because of their "long periods of isolation and…high levels of narcissism."
It was the comment about narcissism that got me. I'm a writer, after all, and I know a lot of writers, and I don't know that I've met all that many narcissists. Just as a quick reference, here are the symptoms of narcissistic personality disorder (as listed in the Diagnostic and Statistical Manual of Mental Disorders, according to Wikipedia):
Expects to be recognized as superior and special, without superior accomplishments
Expects constant attention, admiration and positive reinforcement from others
Envies others and believes others envy him/her
Is preoccupied with thoughts and fantasies of great success, enormous attractiveness, power, intelligence
Lacks the ability to empathize with the feelings or desires of others
Is arrogant in attitudes and behavior
Has expectations of special treatment that are unrealistic
I didn't think I fit that description. But just to be sure, I took this online Narcissistic Personality Inventory quiz. It's 40 questions long and it took me less than ten minutes to complete. Celebrities, on average, score 17.8 out of 40; the average score for U.S. adults is 15.3. I scored 13. So, phew! Not a narcissist.
The blogger goes on to cite a study from 2013 in which a researcher compared the brain activity of creative people and schizophrenics, and discovered both have a precuneus that is pretty much always switched on. What the heck is the precuneus, you ask? I wanted to know, too, so I consulted our old friend Wikipedia. It's a little-studied region of the brain that is "involved with episodic memory, visuospatial processing, reflections upon self, and aspects of consciousness." I guess you could think of it as the part of the brain that governs navel-gazing. Apparently, we creative types are constantly making connections between our current experiences, stuff we've experienced in the past, and stuff we know about ourselves.
Well, yeah. I mean, I know that writing pulls a lot of stuff up out of my subconscious and uses it to create my stories and characters. I also know that I do a lot of free association when I'm writing in the zone. Is it wrong of me to think it's fun? Maybe the difference between novelists and schizophrenics is that we novelists know we're making stuff up.
Where I think the blogger is onto something is the connection between periods of isolation and depression. But as I understand it, isolation is a symptom of depression, not a cause. And such a blanket statement doesn't take into consideration that a lot of writers are introverts, for whom periods of isolation can be a blessing and a way to recharge.
For that matter, his contention that authors tend to be unhappy doesn't really tally, either. Again, I know a lot of authors. Either we're a pretty optimistic bunch overall, or I've met a lot of people who are really good at faking happiness. Because the authors I know say writing is fulfilling and satisfying, and what makes them unhappy is not being able to write.
I'm not about to go to the other extreme and say writers are less likely to suffer from mental illness. I'm just saying that it's wrong to suggest we're all miserable wretches.