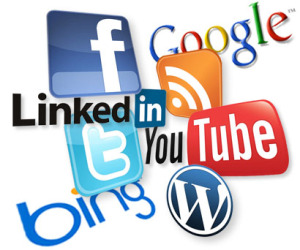 I have profiles on Facebook, Twitter, Pinterest, StumbleUpon, Blogger, Shelfari, Goodreads and many others whose names escape me. I've spent time on Kboards, KDP Community Forums, Yahoo Groups and again, many other forums with long-forgotten names. I've posted ads for my books on Craigslist as well as multiple other free online classified sites. And, in between all that I've written some new books. Eighteen months ago it became too much so I made some decisions. I knew I had to pare down my efforts and decide which sites were working for me and I had to eliminate the ineffective time drainers. So, I determined which three sites were the platforms that would help me connect with readers. I ignored the ones that weren't working and I found the ones that worked. For me.
When I first published I worked very hard and put hours and hours into efforts that sometimes did not pay off. After spending time almost everywhere I knew I had to make some changes. So, I picked three sites. I picked the site that I enjoy the most, the one I think is working but don't really like, and the one I think I should be participating in. Those are the three platforms where I decided to concentrate my efforts.
From time to time I hear that posting on Facebook does not help authors sell books. This is malarkey. When advertising on any of the major promotional sites the sales spike comes after your book is presented on their Facebook page. This has been tested over and over again. In fact some of the sites even alert you to watch for the boost once your book is featured on Facebook, and they ask you to share and like the post in order to increase visibility. When the morning email from the promotional site is delivered you may see a sales spike, but when the post goes live on Facebook, usually in the early afternoon, that's when it's either going to fly or flail. So, Facebook is a necessity for me. I have proven examples over and over again of readers discovering my book because of my presence on Facebook. Fortunately I enjoy spending time there. So, for me, Facebook is the site I enjoy the most and is a must for connecting with readers.
I'm not a Twitter fan. I enjoy spending time getting to know people and learning about their lives (to an extent) on Facebook but Twitter often seems like one long commercial. Nevertheless I know that some authors find it effective so the site that I don't enjoy but is probably working is Twitter. I follow (and am followed) by others who I think are making a difference and running their careers in an honest and ethical manner. And, I share articles of interest from time to time too. I also post tweets when I have a book on sale, or if I've discovered a book that I enjoyed reading, or if there's a book that I believe in that is currently on sale. But, I do this sporadically. If you look at my Twitter feed you'll see that it is not one long plea for the follower to make a purchase. I don't want to bombard people with requests to buy books. I want to be myself on Twitter and show my true personality and in order to do that I do more than just run "buy my book" tweets. So, although Twitter isn't my favorite site I understand the power of it and I respect it and spend some time there.
I should be spending more time on Goodreads. When I published my first book I spent a short amount of time on Goodreads. I shouldn't have stopped. When we look at obscure, low-traffic sites that may or may not help us sell books and then scratch our heads and wonder where the readers are we need look no further than Goodreads. This is a readers site where book recommendations are golden. In spite of its recent controversies, if I were starting from scratch again Goodreads would be a site where I would expand my efforts especially since Amazon now own it. Building a presence on Goodreads is on my "To Do" list this year and will become my number three site, or the site where I should be spending more time.
Currently the site that is in my number three position varies and I don't think that's a bad thing. I post on Stumbleupon from time to time, I've posted stories on Wattpad, and I share my blogs on Blogger. I also spend a little bit of time on a few forums and chat groups. And, although I don't often post on them I do spend time reading posts on Kboards, KDP community forums and some Yahoo groups too. These are great for garnering information and staying current on what's going on in our industry. All of these sites and forums that are in the number three position take up less than ten percent of my working time.
Since I began my one thousand word a day challenge at the end of January (and still going strong), I've spent more time writing. I know I have to get those new words written every day so it has forced me to cut back on some of the time I spend on social networks, I mean marketing, I mean playing on Facebook. I'm sure you know what I mean. I still haven't passed that magical corner where I'm writing more than marketing but I'm nearing that 50/50 ratio and it's getting closer all the time.
So for now, Facebook, Twitter, and Goodreads, are the only three sites where a presence is necessary. For me. Where are you guys hanging out?