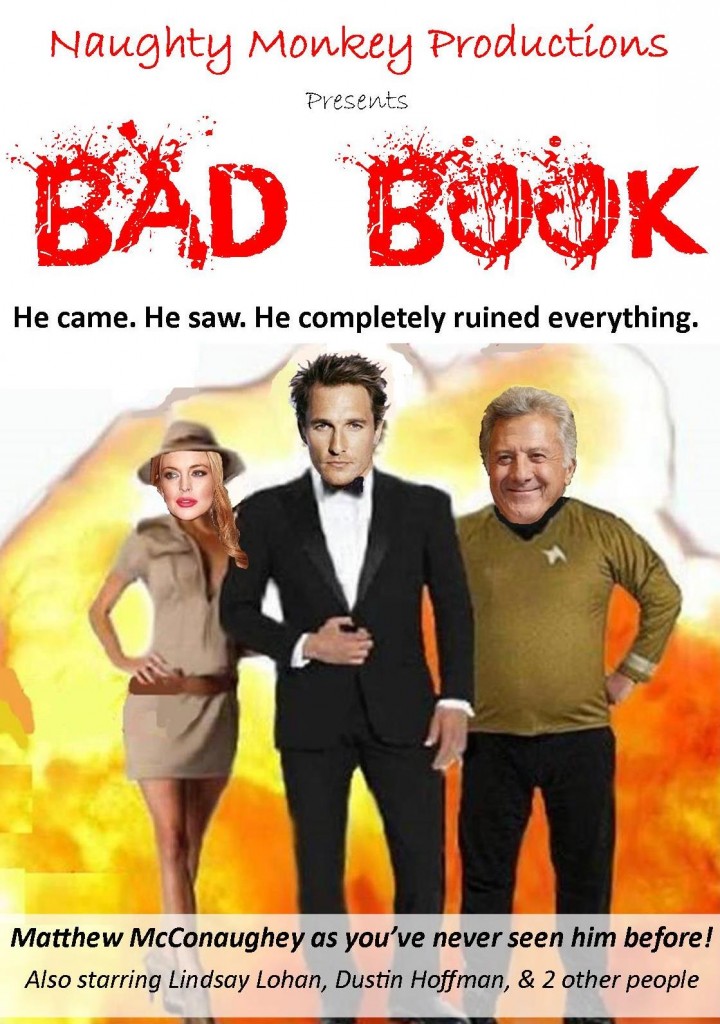 K.S. Brooks has announced she has concluded negotiations with a Hollywood film production company to sell the rights to Bad Book. The deal includes hundreds of dollars in a cash advance to Brooks. Her co-authors will receive an assortment of wine coolers and free passes to the movie when it comes to theaters in their towns.
Asked about whether the seemingly significant difference in the remuneration between Brooks and her co-authors would cause difficulties, Brooks said, "Well, they tried really hard. I didn't want to see them come away with nothing."
Naughty Monkey Media, the company that has purchased the rights, is best known for several modestly successful films it made in the 1980s, including: The Brunch Club, Just Say Something, Seventeen Candles, and an exercise video called The Hills Have Thighs.
Casting has not been finalized yet, but the rumor mill is running full tilt with speculation about whether Matthew McConaughey or Owen Wilson will play the lead role of misadventurer Jim Case. Hollywood buzz also suggests the movie could be a comeback opportunity for Lindsay Lohan.
Popular opinion is that Jonah Hill would be a natural for the role of bumbling sidekick, Norman, but a little bird tells us we might not be too far off to look in the direction of Oscar-winner, Dustin Hoffman, who may consider gaining 40 pounds and losing 35 years to play the part.
Naughty Monkey Media is playing it close to the chest, suggesting other casting alternatives are possible. Bruno "The Sleaze" Sleazak, acquisitions director for Naughty Monkey says, "You know in Hollywood, there is an A list and B list of actors. We are not ruling out going to the C list for this one."
Brooks is highly optimistic about the film's prospects for success. "As a novel, Bad Book raked in tens of dollars. I see no reason the movie couldn't match or even exceed those revenues."