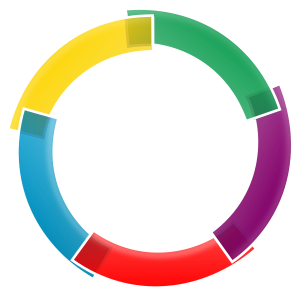 The role of Circles on Google+ is probably one of the most underutilized tools in social media. Last week we touched on Google+ and tips on how to utilize the giant social media platform. Based on the comments and interactions from that post, I thought this was a good time to delve deeper into Google+ Circles.
Google+ Circles are a way of organizing the people you follow on Google+. You can set up as many different Circles as you would like. One big advantage of Circles is that you can control how each Circle appears to the viewer. In other words, if you create a "Work" Circle, you can choose what information viewers see. If you want your co-workers to have access to your phone number or email, you can make that visible for just them.
It's easy to create Circles—simply click on the Circle icon at the top of your profile, select the people you would like to add and drag to the "Drop here to Create a New Circle" button. If you see interesting info on the fly, you can just hover your cursor over the person's name and click the "Add" button, and you can click an existing Circle or create a new one.
Only you know what you name your Circles and who is in them. If you want to create an "Annoying Spammer" Circle, you can do that and only you would know. If revenge is your game, now you can annoy them back without bothering anyone else.
Another advantage over other social media platforms is the ability to pull up the stream of conversation on a particular subject. Let's say you created a "Rocket Launches" Circle, you can click that Circle to view the latest conversation surrounding that topic.
To keep things simple, you can view Circles and communication on Google+ like this:
If you post content and select public, you're sharing with the world and you don't care who sees it.
If you post content and select "Your Circles," it would go to all the members of your Circles and act more like a Tweet. Meaning all the people you've connected with could see it.
If you post content and select "Beta Readers" Circle, you could communicate directly to your story development team without your "Rocket Launches" Circle seeing the content.
If you post something and address it to a single person by typing "+" and then their name, it's like sending an email.
As you can see, there is a lot of power in how you can use your Circles. The ability to fine-tune your conversations and not spam the world with conversation about seemingly meaningless content allows you to gain more respect and build a better brand.