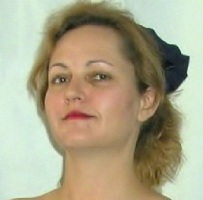 Guest post
by Robin Tidwell
For years, decades really, I'd been saying I was going to write a book. In fact, my family had always expected that I would, even when I was a child. As a teen, I submitted my share of drama-filled angst to magazines, and collected the usual rejections.
I started writing for websites, opinion and experience pieces mostly, and then more non-fiction and news articles. But it wasn't until my husband and I opened our bookstore (2011-2014, RIP), that I finally got cracking on that book.
Naturally, it wasn't The Great American Novel that I'd started a few years prior, but a dystopian suspense story fueled by a late-night salsa snack.
It took me six months to write the 83K-word story, but half was done the first month; life got in the way, as it does, and finally I parked myself in front of the keyboard and said, "It will be done—July 31." And it was. At 10:00 p.m. And I sent it off to a few beta readers.
After mostly favorable responses (except regarding the death of one particular character), I decided to query agents. Now, I'm not the most patient person in the world, so I only sent half a dozen or so emails. And yes, I made at least one error—misspelled the agent's name in the subject line. Oy.
But I was patient this time. For about three weeks. Half had responded with "no thanks" and the others were never heard from at all. Huh. Took a lot of restraint not to write them again and make a snarky comment, but I refrained.
Then a friend told me that her publisher was interested. Wow! Yay! Awesome! Within a week, I had sent a few chapters as requested, was asked for a full manuscript, and received a contract. Woot!
I read the contract, of course. Pretty cool! And then I thought, wait a minute—I can do all this stuff myself. And probably more . . .
So I declined.
In retrospect, given certain events a year or so later, I really, really dodged a bullet.
I self-published Reduced in August 2012. I made a lot of mistakes. It wasn't awful, but the formatting definitely needed work, and the cover, well—what do you expect from a template? At any rate, given the reviews, etc., I started on a sequel, Reused, and announced that it would be released in early December.
And then I hit a wall.
In order to make my period of procrastination somewhat productive, I let my mind wander beyond the typical holiday lists and everyday chores. As a writer, this isn't very unusual, but suddenly it hit me—I could publish OTHER PEOPLE'S BOOKS!
Couldn't I?
Sure, why not?
Turns out, there were probably more reasons for the "why not" side than the "sure," but I've never been one to sit on an idea for very long, to wit: bookstore conception to opening day—two months. Well, it gave me something to do while the ideas for Reused percolated a bit longer . . .
Within a few days, I'd drawn up a business plan and created a website and social media accounts. I opened to submissions. And I got TWO! One of those became the very first not-written-by-me books released by Rocking Horse Publishing in January 2013, Seven Dirty Words, a contemporary romance by Charlotte Howard.
Our nineteenth print book will be released on April 11: Fifteen Minutes of Fame, by Julie Young.
So what have I learned in the last two years?
Write the book. Now. And, dare I say it, a novel of around 80K words or so should not take you more than a year to write. Much longer than that, and you're procrastinating for some reason. It won't be perfect, no matter how hard you try. Get it out there.
Use other people. Oh, not like that! Take advantage of others' skills: editing, proofing, cover design. And pay them, of course.
Have a little patience. But not too much. If you haven't heard back from an agent or publisher in six months, you're not going to—I have a lot of sympathy now for agents who don't respond. Who wants to be the bearer of bad news when the answer is "no?" When you're trying to be and do everything—not to mention look at new submissions—it's easy to put the rejections off until another day. Or month.
Finally, you have to market, and promote, and sell. You cannot be negative, even on a personal website or blog or Facebook page. You cannot complain. You must "go public" and suck up to the paparazzi. You must post often on social media and keep your blog and website up-to-date, avoiding, of course, a constant litany of "BUY MY BOOKS!"
If, that is, you want to be successful.
---

Robin Tidwell is the author of women's dystopian novels REDUCED, REUSED, and RECYCLED, and lives in the St. Louis, Missouri area with her husband, Dennis, and their youngest son.  Learn more about Robin from her Amazon author page.