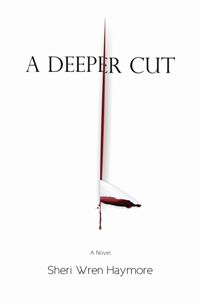 A Deeper Cut
by Sheri Wren Haymore
Genre of this Book: Suspense/Thriller
Word count: 80,093
When Hunter Kittrell and his beautiful friend Miki arrive in Beaufort, NC, for their summer stay, they decide to liven up the small town by pulling a harmless prank. That prank, however, quickly finds them deeply entangled in a blood bath face-off with a knife-wielding serial killer.
As the usually peaceful town is plunged into chaos, Hunter and Miki find themselves drawn more deeply into the investigation, and it turns out their connection to the murders might not be as tenuous as it seemed at first. As the investigation continues, burning questions bubble: Why is Hunter being framed for at least one of the murders? And why does his missing father's name keep popping up all over town?
Everything crashes to a startling conclusion on Hunter's 21st birthday, when Hunter is forced to face the truths he's been running from his whole life.
This book is available from Amazon and Barnes & Noble.
Sheri, how did you come up with the title for your book? Does it have any special meaning? 
A Deeper Cut has a dual meaning. Not only does the title invoke the knife wielded by the serial killer, it gives the reader a hint that there's deeper work going on in the heart of the young protagonist.
Who was your favorite character and why?
Hunter Kittrell is an unlikely hero. He seems so typical—cocky, athletic, a player and partier, not committed to anything. But he's smart, enterprising, and deferential to his grandmother. He keeps his cool when the noose is around his neck, and he transforms into a determined, principled young man.
Does your book have any underlying theme, message, or moral?
Hunter's life has been marked by anger and bitterness toward a father who abandoned him. He must choose forgiveness before he can understand the things that make a life truly worthwhile.
What would/could a reader or reviewer say about this book that shows they "get" you as an author? 
Hunter is a Southern gentleman at heart, and Granny Jen's wit and insight is timeless. The ending is simple and perfect.
Give us an excerpted quote from your favorite review of this book:
With a deep understanding of the complexities of human nature, she creates characters that forge an emotional tug that will stay with you long after you close the book.
Where can people learn more about your writing?
http://www.sheriwrenhaymore.com/