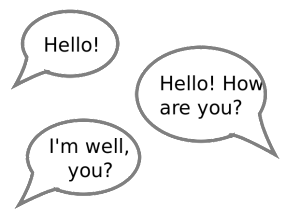 One night over gruel the minions were kicking around possible subjects we could write about and someone suggested a post on dialogue. (I don't remember who as I was busy knocking gruel thief Rich Meyer's spoon away from my bowl. How I still manage to gain weight around here, I have no idea.) Anyway, I said that I couldn't do a post on how to write dialogue. The amount I've written is roughly equivalent to the number of words in the lyrics to Tequila. But I thought I was more than capable of writing a post on how not to write dialogue. Or at least one telling you about some of the problems I've seen made in the indie books I've read. Here are three to look out for in the dialogue you write.
He said, She said
The goal is for the reader to be immersed in your story, to feel like he or she is observing the scenes unfold and listening to the conversation in real life. (Make that a peeping Tom for the sex scenes.) Guideposts are sometimes needed so the reader can keep track of who is talking. But inserting anything in dialogue beyond what is needed for that purpose runs the risk of throwing the reader out of the story.
One of the most common ways to indicate who is talking is using a dialogue tag like these examples:
"You can't make me," she said.
"Are you sure about that?" he asked.
"Just leave me alone," Stephen shouted.
Simple enough, right? The part not in quotes telling you which character was speaking is the dialogue tag. What I'll sometimes see (and if I notice it, you've thrown me out of the story) is using a dialogue tag to impart information to the reader that is better shown in some other way.
"Of course you didn't wake me up," she yawned while rubbing her eyes.
Don't do that. Just don't. First of all, she didn't yawn those words. Maybe she yawned before or after, but she didn't yawn the words. And sneaking in the eye rubbing as part of the dialogue tag isn't clever or creative. It is an excellent way to lose a reader though.
There are ways you can get all of that yawning and eye rubbing in using what are sometimes called beats. Hopefully someone will write a post on how to write dialogue and discuss those. I'm only telling you how not to do it. (I've doubled my lifetime output of dialogue in this post already. I can't tell you how because I don't know how. Only how not.)
There are those who would say dialogue tags of "he said," "she said," or "Character Name Said" are all you should use. As readers we're trained to see and register the word 'said' without actually being conscious of it. Anything else is going to be more obtrusive. I won't say never use anything else, but it should be rare. Taking that approach will avoid dialogue tag abuse, so throwing away the last two of my three examples above might be a good idea. (I told you I didn't know how to do this, right?)
You're right, Kat
If you have two or more characters talking back and forth adding a "he said" or "she said" after every line of dialogue isn't going to work either. It's no wonder some writers want their characters yawning, shouting, and vomiting their words to break the pattern. Not to mention the problem you'll encounter if both characters in the scene are the same gender. Which he was it who said that last sentence? (Using the character names might help for that last problem.) Part of the answer is by allowing the reader to assume that if only two characters are speaking that they're taking turns. You don't have to tell the reader who said every sentence. A dialogue tag here, a beat there and your dialogue will read smoothly with the reader easily able to tell who said what.
Another way you might try to help the reader follow who's saying what is something like, "You're right, John, I don't like that idea." Obviously this was said by the character who isn't John. Used sparingly, this might be okay. It depends. How often when you're talking to someone do you use their name? Most people rarely do. There are exceptions, primarily smarmy types who have been told using someone's name is a way to "connect" with them. If you're writing dialogue for a used car salesman, have at it. Otherwise, go easy.
As I'm sure you remember
With the exception of The Bible, I can't think of any book that starts at the beginning. The characters all have back story that we need to know. Some of the characters may have history with each other that we have to understand. They say (yes, the infamous "they") that "you can't dump all of that on the reader at once." So you take their recommendation of dribbling it out as needed in flashbacks, snippets of internal dialogue (I'm glad no author can access my internal dialogue), and whatever other ways you can find. Heck, if it works for internal dialogue, why not regular (external?) dialogue? Maybe you could try something like this.
"Jack, Do you really think that might work?" Joe said.
"Well, it might. But remember when we tried that before? It was almost the same situation and … "
I won't bore you with the rest (that would involve writing more dialogue), but Jack recounts the details. Every. Single. One. He explains exactly what he and Joe did, everything about the situation (being sure to point out what is the same and what isn't), and last (I hope) why this idea didn't work last time. Good job. You've got your back story on record. But you've also lost your reader. You may be able to sneak some back story in using dialogue, but only in small (make that extremely small) doses and never by having one character tell another what they both already know. Even the least discerning reader is going to detect something unnatural about that conversation.
"Enough of this," I screamed
Now I've written enough words of dialogue to match the number of words in the lyrics to a real song. Maybe La Bamba. If nothing else my bad dialogue proves that it takes practice to get good at something. If my accumulated dialogue ever reaches Alice's Restaurant length, I'll be back with what else I've learned not to do.