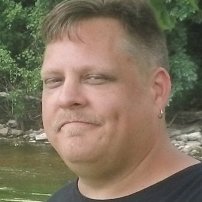 Guest Post
by Jon Jefferson
I have a confession to make. Horror scares the crap out of me, always has. Growing up I couldn't watch most of the movies my friends were watching. Can you imagine, I have never seen the movie Alien. Although I did have a two foot tall alien action figure (no they aren't dolls). Even that scared the crap out of me.
The problem is, was, and shall be, my imagination would build up a picture that was so much more than the sum of the parts in front of me. The stories my mind created based on the images brought out intense fears that, for me, seemed like no one else experienced.
As I look back on my life now, certain points come back to me where I felt these intense fears. They were irrational, they had no basis on reality, but they were strong. Even now when I watch movies like Alien, I can see the duality of how much it scares me and the reality of the costumes and movie magic.
I can hear you asking, what does some scared guy and horror stories have to do with anything? The answer is simple, our emotions come through in our writing. As crazy as it might seem, I tend to lean toward darker subject matter, often playing around in macabre and horror elements in my writing. The terror I feel comes through my writing to the reader.
What is it you are afraid to write? I know you have something that is so filled with emotion that you don't want to share it with others. Many times we avoid writing the more intimate parts of our lives into our work because we are terrified of what others might think when they read it. Sometimes the emotional baggage is more than we are willing to share.
But it is these moments, these parts of us that are so filled with emotion that our readers connect with. These moments connect in the primal emotions in all of us.
I remember a moment a while back when I was writing a scene for a story I haven't shared anywhere yet (No time to share right now). But this scene, I was there in the moment and I felt it all, and it scared the bejeebers out of me. What do you think the odds are of that same scene hitting someone else the same way?
As writers it is our job not only to chronicle the stories of our characters, but also be open and honest with our readers. It is for us to share the raw emotions on the page even when we are terrified to do so. The things we are too terrified to share, are the very same things that the reader desires and craves to read.
It all goes back to "Write what you know." This is more than what you see at face value. It is taking what we know at our core level and sharing that with the people around us. When we are true to our fears and other emotions, they will find their way to the page and create a connection with the reader.
---
Jon Jefferson writes Speculative fiction with forays into Noir and Bizarro. His stories have appeared in the 2013 Indies Unlimited Flash Fiction Anthology, and the Foil and Phazer Divide and Conquer Anthology. Flash fiction stories can be found at his website. Learn more about Jon at his Amazon author page.