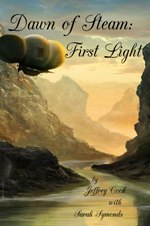 Dawn of Steam: First Light
by Jeffrey Cook (with Sarah Symonds)
Genre of this Book: Steampunk/Alt-History
Word count: 93,000
In 1815, in the aftermath of the Napoleonic Wars, two of England's wealthiest lords place a high-stakes wager on whether a popular set of books, which claim that the author has traveled to many unknown places, are truth or, more likely, wild fiction. First Light is an epistolary novel, told primarily through former aide-de-camp Gregory Conan Watts's journals and letters to his fiancee from the airship Dame Fortuna. The first recruit is, necessarily, the airship's owner: war hero, famed genius, and literal knight in steam-powered armor Sir James Coltrane. Persuading him to lend his talents and refitted airship to the venture requires bringing along his sister, his cousin, and the crew that flew with him against Napoleon. Then they must track down a Scottish rifleman, a pair of shady carnies, and a guide with a personal investment in the stories. When they set out, the wild places of the world – including the far American West, the Australian interior, and darkest Africa – are thought to be hostile enough. No one expects the trip to involve a legendary storm – or the Year Without a Summer of 1815-1816. Additionally, some parties are not at all happy with the post-war political map. Most problematic of all, the crew hired by the other side of the wager seem willing to win by any means necessary. Dawn of Steam: First Light follows these adventurers as they open up the world and lay the foundations for an age of enlightenment and technology to come.
This book is available from Amazon.
Jeffrey, how did you come up with the title for your book? Does it have any special meaning?
The Dawn of Steam series, set in the 1810s, is very early-era Steampunk. Part of the point of the story is laying the foundation for many recognizable Steampunk tropes, which do not exist yet in the native era of the story.
Who was your favorite character and why?
Sam Bowe is a throwback amidst a world marching quickly into the Steampunk era of technological enlightenment. Bringing knives to gunfights, saving royalty with serving forks, being a western hero amongst Steampunk innovation – she makes for a fun contrast.
Does your book have any underlying theme, message, or moral?
In exploring a world moving from a fairly recognizable historical Earth, with a few changes, towards a more typical Steampunk Victorian age, every advance comes with costs. Some of them are entirely worthwhile, others are debatable, depending on the perspective. Regardless, things change, and morality is complicated.
What would/could a reader or reviewer say about this book that shows they "get" you as an author? 
My single favorite comment on the book so far was "Wow, this is a book for readers. You can't just skim it. Well, you could, but you'd miss a lot."
Give us an excerpted quote from your favorite review of this book:
"looking forward to the next installment in this lovely adventure that reminds me of The League of Extraordinary Gentlemen, Sherlock Holmes stories, and Jane Austen novels. "
Where can people learn more about your writing?
www.dawnofsteam.net