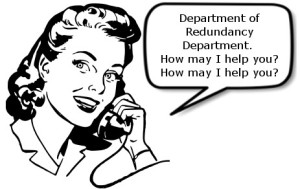 Your main character has fled from the office she shares with a close co-worker and friend, and has run to the boss's office. There, in a key scene, she has emoted all over herself, revealing a deep, dark personal secret thereby. (Yes, she still has a job at the end of the scene.) Now she's back in her own office. Her friend gets in her face and says, "For the love of Pete, would you please tell me what this is all about?"
Your main character is hesitant, but then mutters to herself, "What the heck. The whole world will know by tomorrow."
Choose what happens next:
Your main character rehashes, practically word for word, the conversation she just had with the boss.
Your main character gives her friend a severely truncated version of the conversation with the boss – the Reader's Digest version, if you will.
You, as the author, sum up the conversation in a sentence similar to this one: "She told her friend the whole story."
Got your choice? Cool. Now put yourself in the position of someone reading your book, and answer the question again. Did your choice change?
You will run into this dilemma numerous times in a fictional work of any length. Often, the two scenes are farther apart than the example I just gave you. But the situation remains the same: The reader already knows what's going on. To what extent should you, the author, repeat yourself?
I have read a number of books by relative newbies to this writing thing who pick choice 1 as a matter of course. But 99 times out of 100, that's the wrong thing to do. Just because Charla hasn't heard Trudy's sordid divorce story yet, it doesn't mean your reader needs to hear it all again if you've already had Trudy tell her therapist the whole sordid tale.
Choice 3 is probably the best choice in, oh, say, 75 of those 100 times. It's certainly the best option for keeping the narrative moving, and it definitely won't make your reader want to skip ahead – or worse yet, put your book down and get themselves a nice, stiff drink.
But I can make a case for choice 2. Your main character might want to put a different spin on the information for the new audience, or leave out a telling detail. It might be crucial to your plot that Charla not know every rotten thing Trudy's scumbag of a husband did to her. Or your reader may gain a deeper understanding of your character by seeing how her explanations change. What does Trudy tell her six-year-old son when he asks why Daddy left? What does she tell her teenage daughter? And what does that say about what kind of a parent Trudy is?
I didn't just make up the example at the top of this post. Well, I didn't make it up for this post, anyway; it's a scene from my WIP. When Tracie got in Tess's face and practically demanded to know what was going on, I dithered about what to do next. My gut said to go with choice 2, so that's what I did. But I'm not sure it will stick on the rewrite. I need to figure out whether we're learning anything about Tess from the Reader's Digest version, or whether she ought to just "tell her the whole story" and move on.