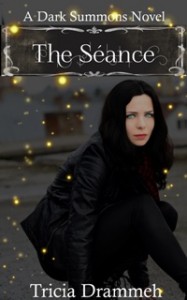 The Séance
by Tricia Drammeh
Genre: YA paranormal
Word count: 81,694
Ninth grade can be a nightmare when you don't fit in at school, your crush chooses someone else, and your parents tell you they're having a new baby. Abby was prepared for normal high school problems. She wasn't prepared for a demon.
Abby has always been fascinated by the paranormal, but after an ill-fated séance, she discovers not all Spirits are benign. A dark entity unleashed during the summoning sets out to destroy Abby, and within days, she loses her best friend, incurs the wrath of her parents, and becomes a prisoner in her own home. With time quickly running out, she assembles an unlikely group of helpers: the most hated guy in school, a retired psychic, and the cute clerk from her favorite bookstore. Unless the demon is defeated, Abby and her new baby brother won't stand a chance.
This book is available from Amazon and Barnes & Noble.
Tricia, how did you come up with the title for your book? Does it have any special meaning? 
I'm very bad at coming up with titles for my books. In this case, I chose the most obvious title. It's simple, but it works. The book is about Abby's first (and probably last) séance, an event that causes great upheaval in her life, and the lives of her friends.
Who was your favorite character and why?
My favorite character is Abby. When the book begins, she's very naïve and irresponsible in her approach to the supernatural. As the book progresses, she develops a sense of responsibility and protectiveness over the people whose lives have been affected by her mistake.
Does your book have any underlying theme, message, or moral? 
The underlying theme would be the power of friendship. When her life falls apart, Abby learns who her real friends are. Sometimes the people who have been your friends the longest aren't really your friends, as she discovers. Those who stick around when things get tough are your true friends.
What would/could a reader or reviewer say about this book that shows they "get" you as an author? 
I love it when a reader says they identify with Abby, or that they can feel her emotions as their own. Several reviewers have said Abby's experiences take them back to their own adolescence.
Give us an excerpted quote from your favorite review of this book: 
This was a truly amazing read that I could not put down! This story deals with teen angst; bullying, family stresses, friendship and a fascination with the paranormal.
Where can people learn more about your writing?
You can find me and all my links by going to my website: http://www.triciadrammeh.com/