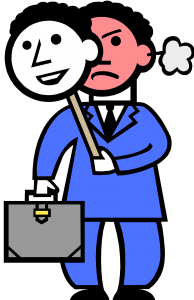 As authors, we all know that discoverability is the up side of social media. If we manage to harness the massive power of the social networks, and the positive word-of-mouth recommendations they generate, we have a better chance of being read. And, of course, once we have a readership, we also have a better chance of actually earning some money from our work.
But what happens when the buzz on social media turns sour?
I'm not talking about the odd, poor review here. Those definitely call for a dignified turning of the other cheek. What I am talking about are those hate campaigns in which a flood of virulent, 1-star reviews suddenly appear out of nowhere.
None of my books have ever been subjected to the hate treatment, but I have seen a hate campaign directed against a fellow Indie, and it was not pretty. Based on the popularity of her previous novel, the launch of her latest novel should have seen a big spike in sales. It didn't happen, largely thanks to all the scathing, 1-star reviews which drowned out the positive ones.
More recently, a carpet cleaning company in the US was subjected to a hate campaign as well, and its business plummeted by almost 30%. The hate campaign was waged on the Yelp website. Coincidentally, the campaign began after the carpet company declined to advertise on Yelp.
Yelp denies any connection between the refusal to advertise and the hate campaign, however it also refuses to divulge the identities of those taking part in the campaign, citing freedom of speech. The case is going through the court system.
And then this morning, I woke to find five comments on my blog, all from the same source, and all complaining about an online company that has nothing to do with me. The reason those complaints landed on my digital doorstep is because I wrote a couple of glowing posts about two of that company's products. The interesting thing, however, was that I could not find out who had left those complaints. Not only were they 'nameless', they were also 'linkless' – i.e. I could not trace them back to any sort of online presence.
Now, I'm reasonably tech smart, but I have no idea how you would go about making anonymous comments that are also invisible. That leads me to wonder how an ordinary, disgruntled customer would have the tech-savvy to cover their tracks so well.
And this brings me to the heart of the problem – online anonymity. On the one hand, being able to hide behind a fictitious handle [or nickname] can be very liberating, allowing shy people to have their say without fear of reprisals. Unfortunately, that same anonymity can also be used by malicious, or fraudulent, people to do real damage in the real world, also without fear of reprisal.
In the real world, freedom of speech is balanced by the laws against libel and slander. I'm no lawyer, but I understand that to mean you can say whatever you like so long as you can prove that what you say is true. To prove your case, however, you have to have a real world identity, i.e. you cannot be anonymous. No such checks and balances apply to the digital world, at least not yet.
I personally believe that digital anonymity is fair in a purely social setting. I do not, however, believe that anonymity is fair in an e-commerce setting where dollars and cents bridge the divide between the real world and the digital one. If the producers of goods cannot be anonymous, then neither should their detractors.