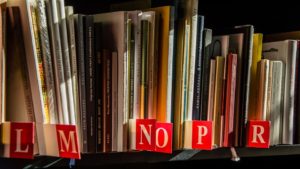 A couple months ago T.D. McKinnon wrote a post for Indies Unlimited that discussed literary fiction versus genre fiction. He also mentioned "…the increasing number of genre labels that sometimes seem to me a little obscure, with the assignment to the various categories certainly more subjective than objective." In this post, I'm going to discuss genre labels, a bit about their history (at least as I see it), their positives and any negatives.
As I see it, the purpose of genres is as a shorthand to classify a book's content. It helps bookstores arrange books that are similar to be close together. In turn, this helps readers determine if a book is something they're interested in or as a way to quickly focus in on the books that potentially fit what they're looking for. Imagine visiting a brick and mortar bookstore where all the books were on the shelves arranged by author last name, ISBN, or some other method without first having them grouped into genre. Could you find what you were looking for? Genre has historically been one of the most critical factors in book discovery. If a potential reader can't find your book, they can't buy or read it.
However, genre has a downside. I'll use a real book, No Good Deed by M.P. McDonald, as an example. In this book Mark Taylor, a professional photographer, purchases an old camera in an Afghanistan bazaar. When he gets home to Chicago and starts playing with it he discovers that when he develops a roll of film, in addition to the pictures he took, there are sometimes additional pictures showing something tragic that is going to happen in the near future. If he can figure out what it is and act quickly enough, he can prevent it from happening. On the surface, this book and the rest of the series it kicked off are thrillers. However, that magic camera is something else. Something supernatural (what section of the bookstore would that go in?) or possibly science fiction. It probably gets shelved in the thriller section. That's okay for thriller fans, assuming someone who loves thrillers, but hates any kind of science fiction or supernatural aspects in a book, will pick up on that from the description when browsing and pass it by. But what about the reader who wants what I'll call "light science fiction"? A book with some science fiction content but is mostly some other genre. Unless the book gets shelved in science fiction, he's unlikely to find it and if they do, the thriller readers won't be able to find it. (Shelving in both sections presents a different set of problems.)
This issue, that a book often has aspects of multiple genres or, even worse, doesn't fit any one genre well enough to shelve it there (at least in my example, the thriller section is a reasonable choice), the book was likely to be passed over by publishers. (Essentially the thought was if you couldn't shelve it, you couldn't market or sell it.) In the past, the author whose muse inspired them to write books that were cross-genre or a bad fit for any single genre were forced to conform or risk being left out in the cold. But with the indie revolution, these authors can bypass publishers in an attempt to find readers interested in what they have to offer. Their primary retail outlets are online and most (all?) of these booksellers provide a means of attaching multiple genre classifications to a book. In this environment genre becomes less of a strait jacket while maintaining its ability to describe a book to aid in discovery for potential readers.
In my opinion this argues for more and more genre and subgenre labels describing the book's contents more precisely, which is actually just continuing what the trend has been throughout history. Although it probably isn't the first thing that comes to mind, at the highest level there are two genres, nonfiction and fiction. Does the book purport to be true or (mostly) made up? At first blush this initial cut seems to provide a lot of value with no downside. It appears the first attempt to subdivide fiction (since that's where we're focused here) was Aristotle, who said all stories are either tragedy or comedy. Even here, there were stories that didn't clearly fit one or the other (the Roman playwright Plautus coined the term "tragicomedy" for this). Over time new genre labels have been coined to describe a type of book when the need has presented itself (or a publisher has seen a potential marketing tool). The YA (young adult) genre is one that didn't exist when I was a young adult. More recently the thriller and suspense genre labels have come into play to more precisely describe a mystery subgenre where solving the puzzle of whodunit takes a back seat to some other aspect of the story. Even the thriller has subgenres, the "legal thriller," for one. Each of these has helped readers more easily find what he or she wants. Someone looking for a book "kind of like Agatha Christie" can look for a cozy mystery and won't have to wade through all of John Grisham's books while trying to find what they want. New labels that have started to take hold more recently are the new adult (essentially YA with more mature content) or boomer-lit, which chronicles the concerns of the aging baby boomer generation.
As a reader I see more genre labels as a good thing. It helps me more quickly narrow down my book search to the kind of book I like and gives me tools to more easily describe a book's content to my fellow readers. It gives authors a means of more precisely targeting readers. Whether readers are interested in your dystopian-erotic-thrillers is an entirely different question. But no matter how obscure or niche the genre might be, if it can be classified, however small the market, readers who want it have a way to find your book. With the ability to use multiple genres to describe a book, everyone should be a winner.