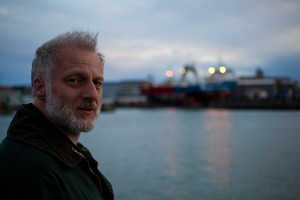 Guest Post
by Quentin Bates
How do you sell a book in the digital era? It's a fraught question and if I had a sure-fire formula for authors to sell successfully, then I'd make a lot more marketing that than writing books of my own.
I came to this down the traditional route, via an agent (a small, energetic one) and a traditional publisher – until its recent takeover, one of the last of the old-school independent publishers with a long history. In fact, I can be proud of sharing a publisher with Bram Stoker, although he probably shifted a great many more books than I ever will.
These days times are harder than they were not all than many years ago. Publishers will do publicity to an extent, especially for a first novel, but after that the focus changes and writers are very much out on their own, unless that first novel turns out to be a runaway success. It's rare, but it does happen.
So what options are there? The obvious one is the internet, that sprawling virtual world that provides so many opportunities and so many pitfalls. One of the unknown factors is being unable to quantify how useful online efforts really are. I have the usual presences, Twitter, Goodreads, Facebook, a (sadly neglected) blog of my own and a regular spot on a respected blog shared with several other authors.
I've written around a thousand words a week for the Reality Check for the last few years, a volume of words that probably equated roughly to a full-length novel, and I have no idea how useful that, or any of the other online activities, have been in promoting the books I write. Presumably there are a few sales that come from people who have seen me pontificating on the internet somewhere – and I have to admit that I write the Reality Check stuff primarily because I enjoy it rather than for any other reason.
It's practically impossible to tell how useful any of the Facebook, Twitter, Goodreads, etc, presences are in terms of sales. I doubt that these do any harm, but I do frequently wonder if it might be more productive to simply shut off the internet and devote the time to something that may or may not be more productive – like writing another book. There's no denying that maintaining an online presence is time-consuming, and I'm nowhere near as diligent at this as some. It's also certain that it's not something that can be neglected. Your followers rapidly start to fade away if you only show up sporadically.
Then there are the events.These can be hard work and every author has tales of driving three hours each way to turn up at a library somewhere and speak to three ladies and a small dog, two of whom were probably expecting someone completely different. My best one was a two hour journey to a library event where the staff outnumbered those attending by two to one. I'm dubious about doing these now, and unless I'm fairly sure there'll be a decent showing, I prefer not to do them – preferably sticking to the ones where there's a more eminent writer than I am as a bigger draw.
What does pay dividends is specific genre events. Panels and readings make a difference, especially if you enter into the spirit of the thing at events that aren't necessarily commercial and offer to chair panels. I write a particular brand of crime fiction, so I do crime fiction events when they're available and go out of my way to make myself available, as these provide a clear opportunity to reach precisely the right people.
In fact, interacting with readers is probably the single most effective approach I have been able to use so far and had a wonderful experience with Lovelybooks.de (similar to Goodreads) when one of my books appeared in German. The organisers set up a forum that was hugely rewarding with a couple of dozen readers taking part over several weeks.
But my gut feeling is that quality publicity costs money. I know it hurts to say it, but in the overcrowded marketplace that is Twitter, Facebook, et al, a superhuman effort is now needed to be heard above the clamour. So this time, for the first time, I'm using a PR outfit to reach beyond the relatively small circle where my stuff is already known. It's daunting. Will it work? I hope so – watch this space.
The old adage that the cream always rises to the top no longer applies, largely because there is just so much good writing out there that there isn't room at the top. Many outstanding writers fall by the wayside because they can't make themselves heard – so you have to shout and find a way to shout louder than everyone else.
---
Quentin Bates fell into journalism largely by accident after a career as a factory hand, netmaker, trawlerman, truck driver and (mercifully briefly) teaching. Having long held the opinion that writing fiction was a complete mug's game, there was nothing for it but to give it a try. His novels are Frozen Out (US title: Frozen Assets), Cold Comfort and Chilled to the Bone, kindle-only novels are Winterlude and the recently published Cold Steal, as well as a translation of Gudlaugur Arason's Bowline. You can learn more about Quentin on his website and at his Author Central page.