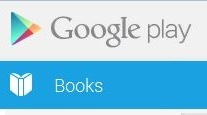 Google Play is probably the most confusing book selling website I've ever encountered. Our RJ Crayton took some of the mystery out of it for us yesterday in this article. But there is so much to it that it's impossible to cover it in one post.
The other day, I entered the information for eight books on Google Play. It seems like each time I go in, there's something new and wondrous I discover needs to be done. This time, I noticed the "You need to add a sales territory" comment when I went to my dashboard. You will find your dashboard at https://play.google.com/books/publish/.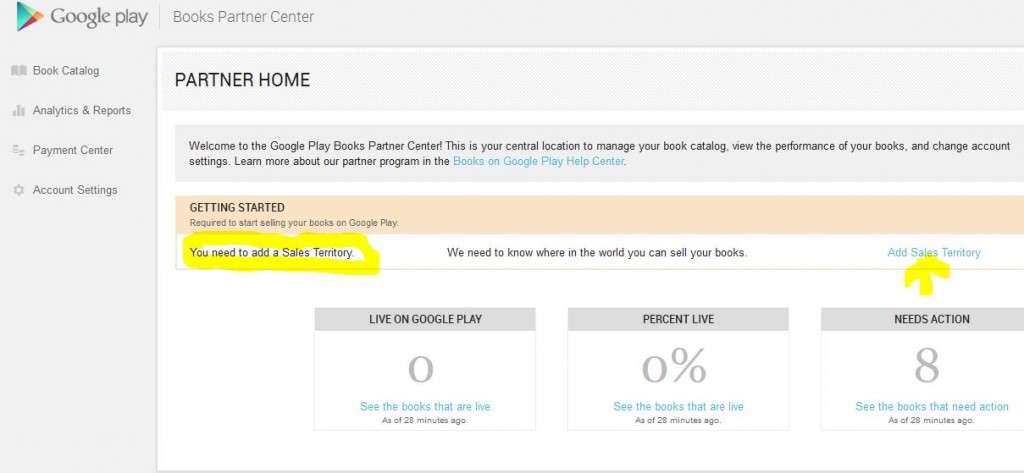 Clicking "Add Sales Territory" took me to another screen – The Payment Center. I had a bear of a time with setting up my bank account the other day – my only address is a P.O. Box and Google doesn't like that. In order to set up an account to receive royalty payments, you MUST list a street address. VERY annoying. Obviously, you need to have your payment account set up before you can select a territory. That's probably why that never showed up for me before. Once your bank account information is entered, scroll down to the Sales Territory information.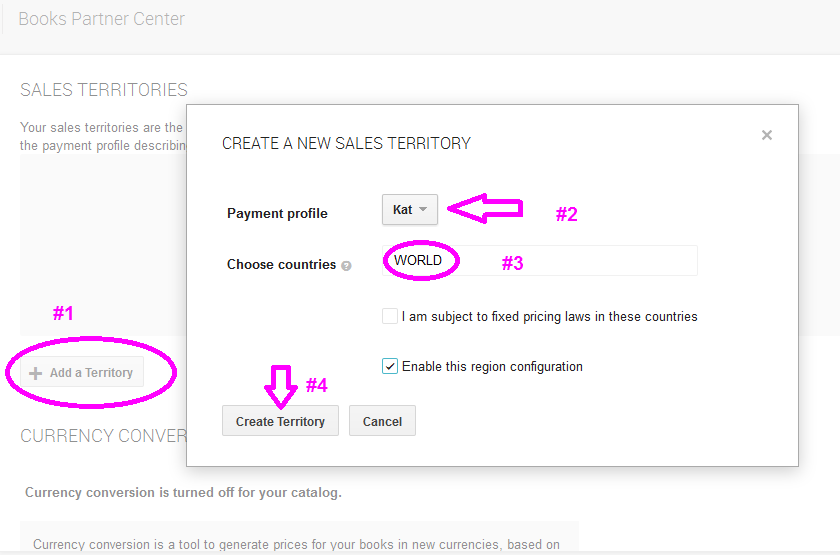 When it comes to uploading your book's interior, Google Play will take either an ePub or a PDF. For the cover image, they will accept a JPG, PDF, or TIFF.  You can upload those both in the same screen at the same time. That part is pretty quick and convenient. All you do is click "choose files," then you can select the cover and the interior together by using the control key, and then click "Upload Files." Boom. Done. You will then get a message "Your files have been received and are currently being processed."
Since most of my books are available in paperback, I decided to upload the pdfs. I have no idea how these will look on mobile devices or if there is any drawback, but I figure that Google wouldn't let you do it if there would be a problem. Since I chose that version of the book, I chose "Paperback" from the book format dropdown. (See pink circle below.)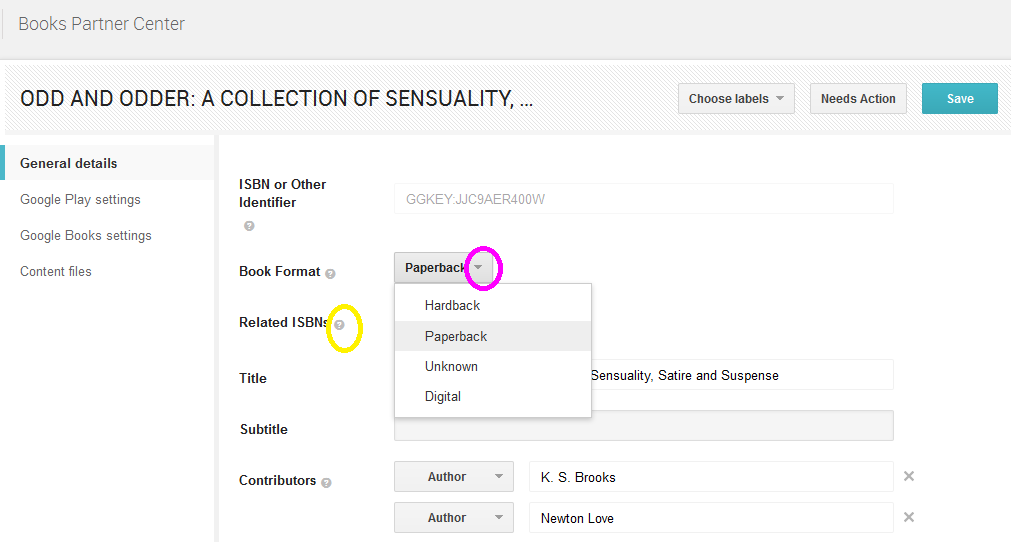 One good thing about this process is that Google has little question marks next to almost every label. (See yellow circle above.) If you hover over that, they will explain to you what you need to do.
After doing all that, I went to my "Book Catalog" page and was surprised to find that some of my books said "missing authors."

This is because Google Play does not assume that you are the default author. I found that very interesting. What I also liked was, as opposed to Amazon's Kindle, you can list pretty much as many authors as you want on a book. That's very convenient for multiple-author anthologies.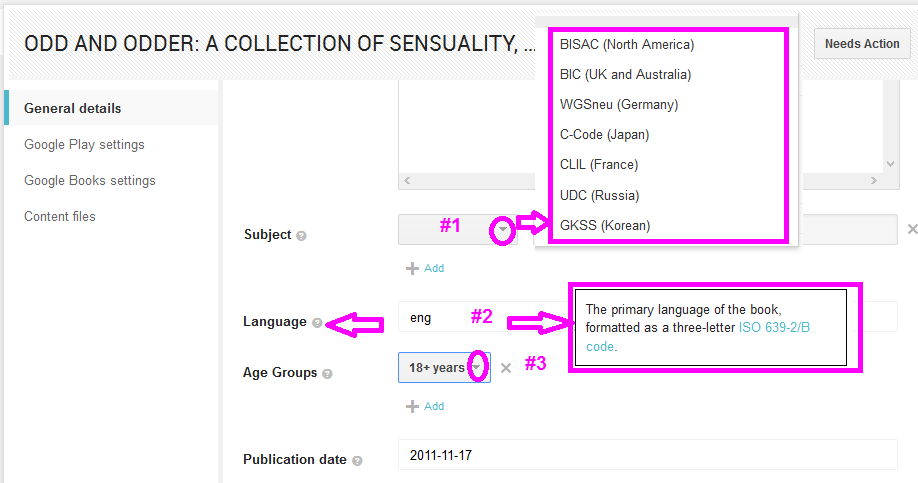 On the General Details page, I found a couple of things to be unintuitive. First, the subject must be a code number based on the system you select. See the image above – #1. For North America, this would be the BISAC code (determined by the Book Industry Study Group). Google does not provide you with the codes or the subject headings. You will have to go here to find the BISAC subjects. Next, the language of your book – there are specific abbreviations for this. English will be eng. Hovering over the little question mark to the right of Language will open a little window (#2 above) with a link to a wiki page with the ISO abbreviations for language. Oy. Age groups (#3) is actually the easiest of all of these. Just choose however many age groups fit your book's audience.
Down at the bottom of the Content screen, you will find something very interesting called "Quality Reviewers." If you click on the "Learn More" link next to that, it will take you to a page which explains how you can not only make a book free to reviewers, but also provide them with a free review copy prior to release! Pretty nifty stuff. Clicking "Add" will open a window in which you can type an email address. (See image below.)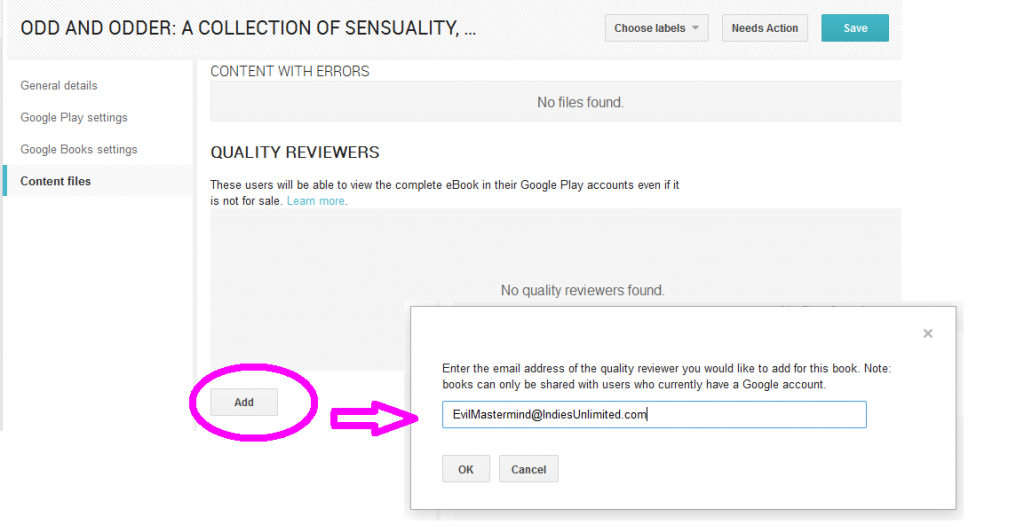 We're not going to go into price here today because RJ covered that quite nicely in her post yesterday. Make SURE you read that. If you don't, you could end up in trouble with Amazon.
Do you feel like you just went in a bunch of circles? I know I do. That's how I feel every time I log into Google Play. That may be because I'm trying to play catch up with all my already-published books. The only good thing about that is that you can do things in bunches or increments or whatever is convenient for you. Unlike Smashwords or Createspace, you can save bits and pieces of your projects as you go along instead of having to hit publish right away.
Getting your books up on Google Play? Well, stay tuned, because on May 10th at 5 a.m. Pacific time, we're going to have a Google Play Book Fest. Don't miss it!