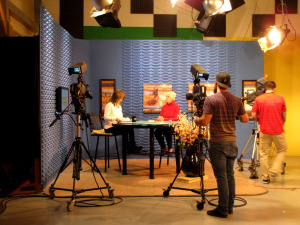 We authors are always looking for new ways to get our books out in front of the public, be it guest blogging, book signings, or radio spots., Some of our cohorts (Carol and Lynne) have already given us guidelines for the radio shows. If we're really lucky, we can score a TV spot. No, really; it's not out of the question. Just think about those local TV shows that run on weekday mornings, the ones that love to feature the goat lady who makes her own soaps from goat milk, the fire captain who's going to be the grand marshal of the Independence Day parade, the teenager who won a medal for saving his little sister from drowning. Those TV shows need guests, and you need to get the word out. It's a perfect match, and a great way to practice your pitch.
Once you've pitched your book to the show and been slotted in (I know you can), there are a few things to keep in mind before the show.
Ask ahead of time about any guidelines for what you wear. Most will probably ask that you not wear white. Remember that the lights are bright and can build up heat, so if you tend to run hot, dress accordingly.
The TV station will likely ask you to fill out a short info sheet. Describe your book in as interesting a manner as you can, and provide images. You will, of course, take your book with you to the show, but extra images can be helpful. When I did my spot, they spliced images of my book into the interview at strategic times.
Ask about getting a copy of your segment, whether that's on disc or via download. Most stations will not provide this for free, but they will for a nominal price. Make sure you find out before you do your spot so that's all in place before you start.
If you want, ask about having a guest come with and/or taking pictures during the shoot. I had my husband come with me and the crew had no problem with him taking pics during the session, as long as he didn't use the flash.
On the day of the show, be ready, willing, and courteous. This is no time for high maintenance. Help the producers out and they will invite you back again; prima donnas not so much.
• Arrive on time, or better yet — early. These shows have a very structured schedule and if you want to be invited back, don't do anything to mess that up.
• Be ready to go when your time comes up. That means having already gone to the bathroom several minutes before, checked your hair, checked for bits of breakfast in your teeth, etc.
• Speaking of breakfast, no eating, drinking, or chewing gum during the show. Viewers will want to hear you speak clearly, and won't be as entertained by rampant mastication.
• Relax; I know, easier said than done. But if you think of it less as a TV appearance and more as simply a one-on-one conversation with the host, you'll be less of a basket case. Don't even look at the cameras; concentrate on your host. Listen to their questions and speak directly to them.
• Be enthusiastic. Don't like talking about yourself? Then don't; talk about your book. Why it's great. Why it was fun to write. Why it surprised you. Enthusiasm is interesting. This is no time to be reticent.
• Tell stories. Even if your host asks a simple yes-no question, answer with a story. Do you do a lot of research? Yes; just last week I went to an emu ranch to learn how to lasso an emu for an upcoming book. Be creative. (Isn't that what we do??)
Finally — have fun! I don't know of any way to banish the jitters beforehand, but once you get into it, just enjoy the ride!