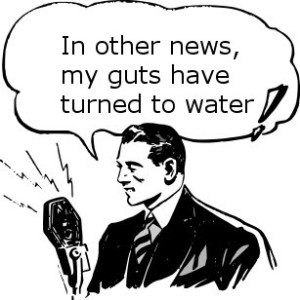 Back when I was in journalism school, I was assigned to interview a professor I didn't know for a story that would run on the campus radio station. On interview day, I yelled and hyperventilated all over my dorm room – to the point where my roommate said something to the effect of, "Gosh, Lynne, if this is so stressful for you, maybe you should change your major." I calmed down, did the interview – the prof was perfectly nice and, in fact, probably had more radio experience than I did – and did not change my major. Then I went on to spend twenty years in the news business, and only occasionally suffered the sort of panic I'd had before that first interview.
Mumbledy years later, as an indie author and years after leaving the broadcast biz, I was asked to be a guest on a podcast. Just before the show started, I yelled and hyperventilated all over my apartment, scaring both my daughter and the cat. The show went fine, of course. In fact, I had such a good time that I've done a couple of other podcast "guest shots" since then.
It's only now that I realize that both times, I was simply nervous. And if it can happen to me, it can happen to you. Here are five ways to cope.
1. Breathe. Deep, cleansing breaths – not the shallow, fast, hyperventilating kind. The point is to calm yourself by taking in more oxygen, not make yourself pass out.
2. Have a cup of something warm: coffee, tea, hot toddy. The warm liquid will soothe your throat and relax your vocal cords. Don't have so many hot toddies that you get silly, though. And be careful of the amount of milk in your drink, because milk can gum up your vocal cords to the point that you'll be clearing your throat throughout the interview. A little cream in your coffee is okay, but I'd avoid, say, a latte. And definitely save the milkshake for after the interview is over.
3. Pretend you're talking to your mom. Or, if Mom tends to be critical and unforgiving, then pretend you're talking to your most supportive friend or family member. The vast majority of your listeners have no preconceptions about you, and no knowledge of what you did to the cat when you were in third grade or whatever. In fact, they're predisposed to like you. No, really.
4. But what about the listeners who aren't predisposed to like you? Screw 'em. You can't be everybody's friend.
5. If all else fails, play a role. The thing that kept me sane for all those years in radio was that I felt I was conducting interviews as a representative of the station or network I worked for. In a way, I was an actress, playing the role of reporter. Now, when I sit on the other side of the microphone, I'm representing my writing business. It's Lynne Cantwell, Indie Author, who's talking to the listeners, and she's a Very Interesting Person.
If you can do most or all of these five things, you'll be fine. And the cat will be vastly relieved.