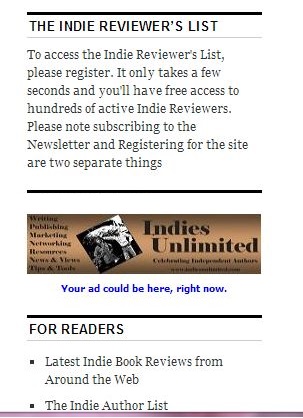 Love may make the world go round and money can't buy me love. Even though some call it the root of all evil, I still find myself looking for ways to obtain more of that filthy lucre. If you have a website or blog, the eyeballs of your visitors are worth money. There are various ways to monetize your website. The most obvious and least intrusive is as an affiliate of Amazon or other vendors. If you have links to products on these websites, getting a cut when you send someone from your site who subsequently makes a purchase, seems like a no-brainer. But what about other options to pick up a little extra? Today I'm going to discuss advertising, focusing on Project Wonderful, one specific option to sell ad space on your site and also a way for authors and publishers who want to advertise to find potential sites on which to advertise.
First, I'll briefly discuss two other options so we can compare the positives and negatives of each. When I first started my blog I wasn't thinking about advertising, but the Blogspot platform (owned by Google) made it easy to add advertising using Google Adsense. I didn't want to be one of those sites with an ad across the top of every page and embedded in the middle of every post, but decided a few very unobtrusive ads way down the page couldn't hurt.
So I set those up and forgot about them with the thought that it might just be pennies, but those pennies would add up with zero effort on my part. They did. But they were just pennies, with $5-10 a month being a rough average although I sure it would be better if the ads had better page placement. (More site traffic would be even better.) Adsense has a minimum threshold of $100 before they'll send you a payment, which means a long time from payment to payment. That's a negative, but the biggest downside to Adsense is the lack of control over which ads are run. L.A. Lewandowski talked about this in her post earlier this year. While you can exercise some control to prevent running ads for Publish America or Kirkus, doing so is neither easy nor intuitive.
The other alternative is to sell ads directly. I've occasionally had authors, publishers, and others inquire about this and my answer has always been no. The positive to doing this is that these advertisers would be a better fit for the audience I'm able to deliver, making the ad space more valuable. However, when I considered the logistics of doing this, answering inquiries, record-keeping, swapping ads in and out, and so on, it was obvious that the price I'd have to charge to make the effort worthwhile compared unfavorably to the number of eyeballs I could deliver. I'd be a small-time predator, no better than Publish America, albeit, on a much smaller scale. Pass.
Then a potential advertiser brought Project Wonderful to my attention. In many ways it is like Google Adsense on a smaller scale. It functions much the same way. You define where ads will go, add some HTML code or a plugin to your site, and it automatically delivers ads to the appropriate spot on your page. It can be setup to function much like Google Adsense where you set it up and forget it. However, it gives you more control if you want it, as detailed as having to approve every ad. The price for ads is set by what they call an "infinite auction," where advertisers bid for a space and whoever has the current highest bid has their ad delivered and account charged accordingly. The market decides what your ad space is worth. You can set a minimum bid for the space or leave the default as zero, which means that if only one advertiser is interested in your space, they'll get it for free. You're also allowed to setup a default ad to "advertise" on your own site, which is delivered when there aren't any advertisers who have bid on a space. I've setup default ads for Indies Unlimited, like the one in the picture at the top.
It is also easy for advertisers to use, so when I get inquiries all I have to do is refer them to Project Wonderful, making the ad space accessible to the potential advertisers that are often the best fit for my audience.
The positives I've found are greater control over what ads are delivered to my site, with a downside that the more control I exercise, the more time is required of me. There is an affiliate program that gives a "publisher" (Project Wonderful's term for a site that displays ads) a credit towards advertising on other sites themselves for any advertisers they refer. (Should I mention that the link to Project Wonderful at the top of this post is an affiliate link?) As with Adsense, you aren't going to get rich unless you deliver a ton of eyeballs, but the payment threshold is lower. (Payments can be delivered with an account balance of only $10, with a negative that there is a $1 charge for each payment.) Also, like Adsense, the pennies do add up. For authors and other advertisers, this is a way to access cheap advertising.
I think I've used up all my allocated words, but if enough readers are interested, I could potentially do a tutorial in the future for publishers, advertisers, or both going into more detail on the various settings and options available. Let me know if you're interested.