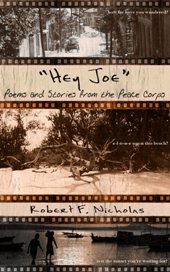 "Hey Joe"
Poems and Stories from the Peace Corps
by Robert Nicholas
Genre: Travel, biography, memoir
Available at Amazon.
Most Peace Corps Volunteers experience some form of culture shock. But which was worse – giving everything up to spend two years living a simpler way of life on a small remote island in the Philippines, or returning to the US and realizing what we've lost?
Excerpt:
Now my favorite word was "kwan". I struggled at first to understand this often used term. "Kwan" seemed to pop up in every conversation I heard. How could that be? It didn't make any sense. So much "kwan". Sometimes it seemed to be a verb, other times a noun, or an adjective or adverb, though never a preposition. Finally it dawned on me that "kwan" was the equivalent of "uh" "er" "ah" "umh" or the ever popular "you know". "Kwan" means I am clueless as to the word I should use here, but you catch my drift. And if you do, please tell me the correct term. Man did I use "kwan" a lot once I figured that one out. Now I could speak far more fluently and sound as if I actually knew what I was talking about. I even used to buy "kwan" at the merkado.
What others are saying:
"Having read many books about the Peace Corps experience I feel this book is one of the best." D. Ianni former Philippine Peace Corps Volunteer.