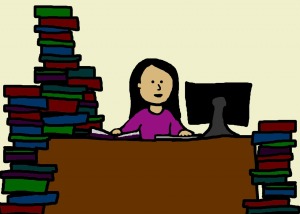 We writer types are a fine bunch. We write. We write about writing. We write about what others say about writing. We write about the fact that writing makes us authors … and then we write some more.
Recently, Martin Crosbie wrote about writing words—lot's of them—every day.
I respect what Martin does and he is certainly a leader amongst our Indies Unlimited family and beyond. His example is inspiring and sets the bar for what us writer types should be doing.
But, what happens when that doesn't work? What happens when you don't write? I've read many times from several fellow authors that they write because they cannot not write. However, there is this little thing called life that gets in the way at times.
Have you ever gone a day without writing? A week? Have you ever pulled up your WIP and noticed that the last save date was more than a month ago? Does that make you not a writer?
We read so many inspirational stories in these pages. Tons of tips on how to improve your writing, write more and prioritize your writing. The funny thing is—it doesn't always work out that way.
So, here's my message to all of you who can't pound out 1,000 words a day or worse, just can't write every day.
It's okay. Writing is one of those strange things that you can always pick up at any time. Sure, you might have to read a couple of pages to get back into the groove. Once you do, chances are, you'll be writing faster than ever. I know it can be tough around here sometimes. We hear the great success stories and then we look at what we're doing and it can be a little depressing.
Have no fear. Only you know what your situation is and what you are capable of. Okay, maybe you don't quite know what you're capable of because most people underestimate that part. The fact is, Indies Unlimited is a true support group. Everybody does this thing at his or her own speed. If you haven't penned an original thought in over a month … it's okay. If you haven't published … it's okay. If you haven't submitted a flash fiction piece … it's okay.
Sometimes, we are so hung up on the fact that we are not writing, that it becomes counterproductive. Remember, we become what we think about the most. Turn the negative thoughts into a positive. Let it be okay to go a while without writing. Give yourself permission to slack off. It's important to make a conscious decision about NOT writing, rather than beating yourself up each day because you didn't have a CHANCE to write.
As a sales manager, I used to tell my reps that all the time. Rather than spin your wheels for eight hours being non-productive, call it a day and go have fun. It's the same thing with your writing. Sometimes, you just need a break. Take it consciously. Make the decision and then get back to writing with a willful, rejuvenated attitude.