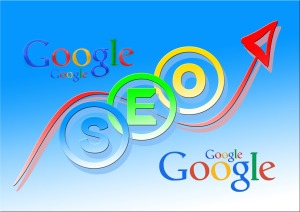 As indie authors, we struggle to get our name out as much as we can. However, what happens when someone is looking for you? Maybe they read about you somewhere online but can't quite pinpoint the source? What do others do? They reach for Google.
It's important to dominate the first page of Google as much as possible. Not just with your name, but with a variety of content associated with your subject expertise, your blogging, your social interactions and of course, your books. Here's a primer on how you can monopolize the first page of Google.
Google+ – Most of us interact on Google+ as individuals. Take the extra step and develop a "branded" verified Google+ page for your business. If you have an email associated with your website that doesn't end in @gmail, @aol, @hotmail and the like, you can develop a Google+ page for your writing. Add a publisher profile and you can start seeing additional content showing up on the search engine results page. You can do this by adding a snippet code in the <head> tag of your website's HTML.
Example: <link href=https://plus.google.com/your Google+ ID rel="publisher" />
Now, make sure that your website is the primary link in the "About" section of your G+ account. You can find a more detailed explanation of this process on Google's page here.
Google Images – Fill in those annoying fields like Title, Alt Text and Description that we often leave blank. It's important to populate these sections when adding images to your posts or website. Make sure to add your name or brand to these fields so that search algorithms will find you easier.
YouTube – Be sure to tag your videos with your name and brand. Having the Book title in the name of the trailer is not enough, be sure to include it in the description and the tags.
Press Releases – We've talked about these before on Indies Unlimited, but did you know it can actually improve your search engine results position? Here's the link to Kat's tutorial on Press Releases. Regular press releases can bring more credibility to your "brand" and sway Google into giving you more props.
Organic Search – Your brand domain is more than your website. One of the tricks to getting more first page visibility is to make sure that other domains outside of your website are getting attention. By utilizing other platforms and properties, you can maximize your coverage. The most important properties in Google's eyes (outside of their own property, G+ and YouTube) are Wikipedia, Twitter, Facebook, and Linkedin. It's important to have branded accounts on each of these sites. Twitter, Facebook, and Linkedin wasn't surprising, but I didn't see Wikipedia coming. So now we all have a little more homework, we get to set up a Wikipedia page! However that is not so easy because you can't just go in and set up your own Wikipedia page. For more information on Wikipedia entries click here.
Paid Search – While most of us don't get into paid search with Google, I would be remiss to not mention it. If you are stepping into those waters, it is important to look at Ad extensions to help you gain more real estate on the first page. You'll be able to add content to the ad like reviews, places to buy and more. You can find more detail on how to do this here. I'm not promoting or condoning paid ads. It's all in how you approach your business. The costs can climb quickly, but if you are going to do it, do it right and include extension because it doesn't cost you any more to include them.
With these tools and ideas, you'll be one step closer to dominating the first page on Google's search results. More visibility means more opportunity.