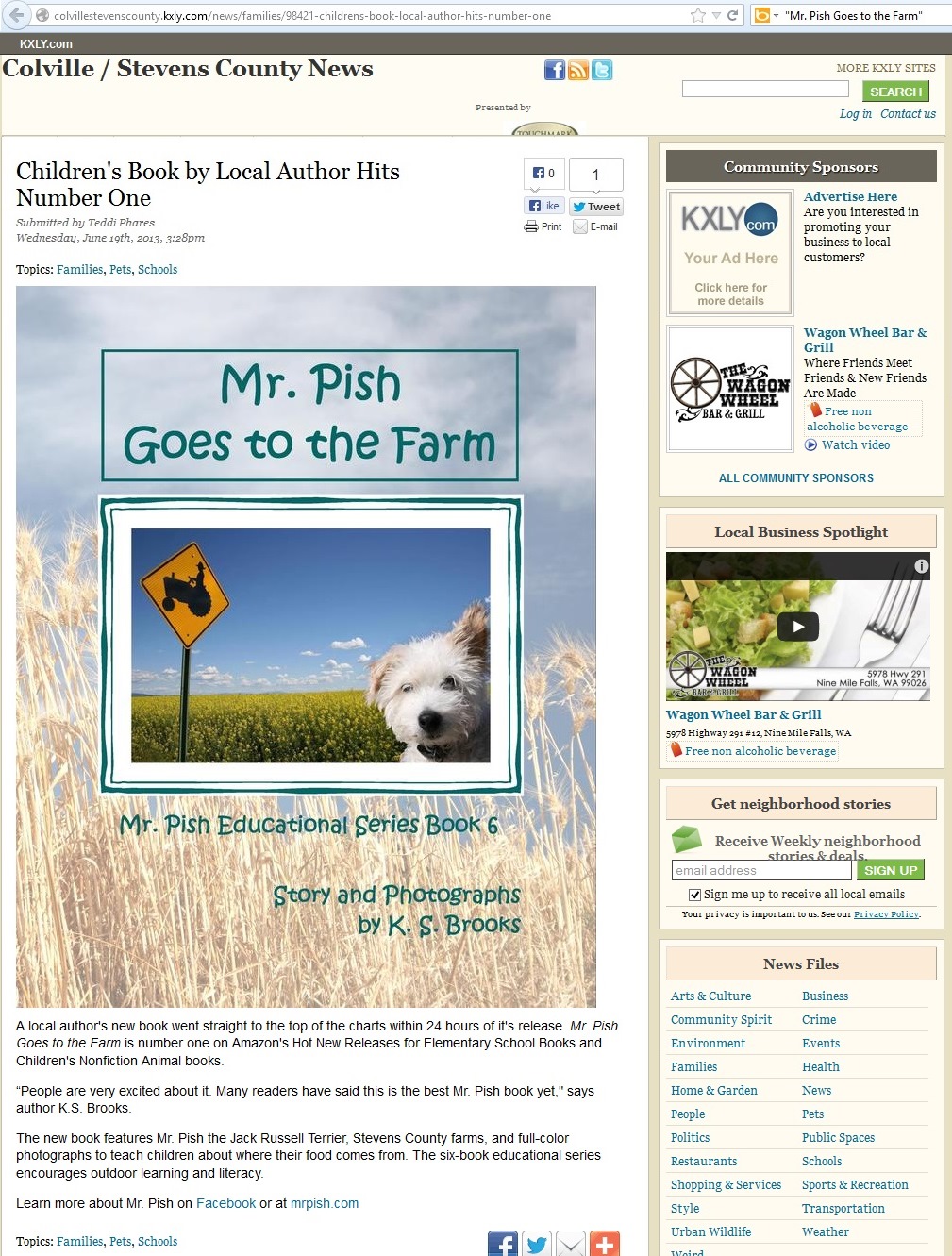 I've been getting a lot of questions about press releases recently – probably because just this week I distributed nearly 300 of them. Frankly, I'm surprised by the number of authors and entrepreneurs who are not taking advantage of this FREE opportunity. Sure, your time is worth something, but all it takes is a little legwork (and a lot of clicking). Once you've gotten your distribution lists together, it's just a matter of sending emails.
First of all, you need to write a short and interesting release. You can see my latest here which announces the release of Mr. Pish Goes to the Farm. Notice it's merely four short paragraphs: the introduction which includes all the pertinent information (title, release dates, author name, genre); a brief description of the book's contents; a hopefully compelling quote from the author (or a reviewer or celebrity); and the closer with links to get more information. Also, the information after the ### should be about the author and anything that links him/her to the publication. Don't forget to include contact information. Fore more tips on how to write your news release – check out Lynne Cantwell's article here.
Don't write just ONE press (or news) release. Did you grow up in Boston, move to Maryland, and are now living in Washington State? Write one for each location – tie yourself to the community. Is your book about a dog who is teaching kids about farms? Tweak that release to interest people who care about those subjects – separately (one for dogs, one for farms). Enough about the awesomely cute dog – how does this apply to your fiction book? Does it maybe take place in Vancouver, Canada and Washington State? Does it feature hockey and health food? Same deal. Make gentle adjustments in the title and the body to appeal to people interested in those places and subjects. So, if you have Vancouver, Washington State, hockey, and health food – that means you would have five different releases – don't forget the generic one for national/global news sources.
What do you do with all those releases? Well, crack those knuckles, because here comes the grunt work.
To find newspapers for specific states/cities/locations, there are a number of sites which list them conveniently for you. Here are a few:
U.S. Newspaper List
List of Newspapers (Worldwide)
United States Newspapers
For specific subjects, you'll have to do the legwork yourself and search online for magazines and periodicals. Once you get to the sites, look for the contact information – sometimes there will be email addresses, sometimes there will be a form, and sometimes there will be a rat maze that leads to insanity. (If your book raises interest in an area, why not also send your release to the tourism office? Be creative. Find different angles. Email is free.)
I always make a spreadsheet (you can use CRM software if you want) to track who, what, when, and where I sent releases to. Here's a sample page from it: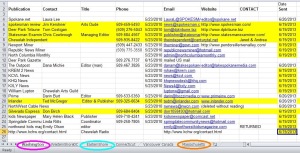 The pink circle is for press outlets where I currently live, the aqua for where I last lived, and the orange for where I grew up. The email addresses are live links I just have to click to open up my mail in Outlook. Bam bam bam, do it like an assembly line. Click, copy, paste. Just make sure to paste the correct release to the correct location. I try to send my releases during the morning (keeping in mind the time zone differences) on a Tuesday or a Wednesday. Who wants to get one as they're heading out the door on Friday, or sitting down on a Monday morning? Think about when you would be most likely to read one (and the subject line that would intrigue you) and act accordingly.
Then there are the free global distribution sites. I wrote an article with a list of those a little over a year ago here. Make sure to read that post, which contains other tips as well, before you go ballistic. There's just too much information to fit in this article.
You might be thinking "wow, I'm going to get a boatload of press!" Well…probably not. "Then why do it?" you ask. Because of the marketing Rule of Seven: seven instances of getting in front of people before they recognize your brand. It took me ten years to get a major paper in Massachusetts to run a feature story on me. But they finally ran it. This takes perseverance – much like writing itself. Also, these things take time. Out of the blue I will get an email from a magazine editor who has been holding on to a press release – sometimes for a year – who will then request a copy of the book for review. Then, six months later, they will write up an AWESOME story – you can check one such instance out below.
These things take time, and you can't be afraid to put that time in. It took me about two days to distribute the releases for Mr. Pish's new book. It took me a lot longer to write it. Don't you think your book is worth it?