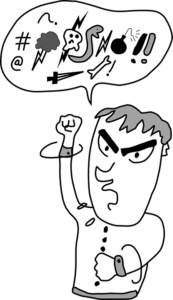 Yes, that's right – another badly behaving author. Before I go further, if you want the gory details, hop off and read this post at the Cabin Goddess. Just don't follow links forever and forget to come back. For the tl;dr crowd, the twitter version is: reviewer writes one star review, author goes ballistic and threatens a lawsuit.
This isn't the first time something like this has happened. It won't be the last. I could regurgitate the normal talking points (author never comes out looking good, a review is only one person's opinion, raising a stink only draws more attention, this isn't just indies), but you've heard it all before and most (hopefully all) of you know better than to react this way to a bad review. However, in reading through the account linked above a couple things jumped out at me that were unique, at least in my experience. I thought they might be worth discussing for the potential lessons to be learned.
I'll start with a disclaimer that I don't know either party. The blogger, Kriss Morton aka Cabin Goddess, is someone I was aware of previously. I've visited her blog a few times and might have exchanged an email or two with her in connection with her book publicity business. The author of the book in question isn't someone I'd heard of before now. I've talked to neither, basing my thoughts and opinions on what each have written on their respective websites. Also, I'm not a lawyer and my legal opinions are just that, opinions from a layperson who likes to pretend he knows what he's talking about on the Internet.
One of the things that jumped out at me when reading Kriss' account as well as the post the author wrote on her own site is that sharing on social media magnified the effects. In this instance Kriss is in a Triberr tribe that retweeted her tweet. (For those who don't understand Triberrr, here's an excellent primer from Carol Wyer.) Triberr worked as designed, Kriss got the word out about this review, just as it could and I assume does happen with all her posts. The author saw these retweets and felt like she was being ganged up on and had been singled out. She even spins a nice conspiracy theory on her site.
I see two or three potential lessons here. The first is that Triberr has a lot of potential to get more eyeballs on your tweets. But there might also be a lesson to be learned about the downside. It's seems obvious that you wouldn't want to put yourself in a situation where you're auto-tweeting or sharing anything else automatically unless you're confident that you won't be pointing your followers to content you'd have a problem with. However, even then there is a potential to get drug unwillingly into someone else's drama as those in Kriss' tribe discovered. Last, if you're upset (can I say "pissed off" at IU?), take time to cool off before doing anything. If you feel you've been wronged, lashing out in anger (my interpretation of the author's reaction) is almost never going to get the optimal results no matter who is in the right.
The other thing I found interesting was the issue of copyright violation. From what Kriss says in her post and what the author says in hers, it appears the author's threat of a lawsuit was premised on the claim that displaying her book cover and an author photo as part of the review was a copyright violation. If you look at some of Kriss' other reviews you'll see that they're visually pleasing with plenty of visual context rather than a wall of text. They always feature the book cover and an author picture. Some of them also feature an excerpt from the book being reviewed. It appears those with excerpts (and some without) are from blog tour stops. Blog tour operators usually provide book covers, author photos, and sometimes excerpts for the blogger to use as they please. Implicit in that is permission to use these on your blog.
However, it appears Kriss purchased this book herself and as far as I can tell had no connection or communication with the book's author prior to publishing the review. Even so, I think where the book's cover is concerned, the author would have a hard time making her case of copyright infringement. I don't know, but suspect, Amazon's terms of service for KDP gives Amazon and its affiliates permission to use the book cover. Even if they don't explicitly do so, I'd be amazed if using the cover in a review didn't fall under the fair use exceptions to copyright. Use of the author photo is another matter. That is conceivably a copyright violation. Had the author submitted the book to Kriss for review there might be an argument (albeit, a shaky one) that permission to use the picture was implied (if every other review uses an author picture, why would an author think they'd be different), but even that doesn't seem to be the case in this situation.
The lesson to be learned here is twofold. First, whenever using content that didn't originate with you, consider issues of copyright. Is it public domain or otherwise open for use by anyone? If not, do you have permission to use it, either explicit or implied? Last, if you're starting a blog with plans to have a consistent look and feel to each post, will what you're planning work for every situation as it pertains to copyrighted materials?
In these situations I'm almost always going to be biased towards the reviewer's point of view. I'm curious if any of you, especially authors, think I'm missing anything.