When I first encountered Triberr, for some unfathomable reason I had a Lord of the Flies moment and pictured small boys on an island wearing war paint. After battling away with it, as I do with all things social media, I discovered it was a fantastic place. I stripped off my clothes, grabbed a conch shell and had a go at finding others.
Indie authors need to leverage all kinds of social media in order to effectively sell their books. Running a blog has been a great way for me to get the word out about books and other writing, but it's also a way to share information that helps my book marketing. Triberr enables you to grow that blogging community.
Indie Authors and Triberr.
Triberr was started by Dino Dogan and Dan Cristo. Their idea is simple: have a site in which everyone in your Tribe tweets your new blog posts, and you do the same for others in your Tribe.
All you have to do is approve the tweets and Triberr does the rest. It's a great way to build your blog following quickly and effectively.
The real key is to make sure you write quality blog posts. Once tribe mates tweet your blog posts, your reach expands. Let's assume you join a tribe of ten. There are nine people, other than you, who will be tweeting every blog post you write. I'll be pessimistic and assume they have 100 followers each; your post now has the potential to reach 900 people. Of course, some people have thousands of followers so you can imagine the potential for your post.
I've seen a huge increase in blog followers and comments since I joined Triberr. So how do we join this rapidly expanding community? Here's my very simple guide to getting started on Triberr.
An Easy Guide to Getting Started on Triberr
To get started, point your browser to www.triberr.com where you should get a page like this: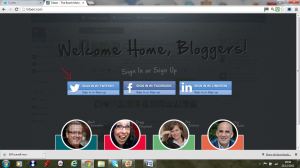 Connecting Your Twitter Account
You can choose to use Twitter, Facebook or LinkedIn to connect with Triberr. I chose to start with Twitter. You can add the others afterwards. If you are connected to Twitter right now, LOG OUT. You will be asked to Add Your Twitter account and you will be redirected to Twitter. Then you will need to authorize Triberr to access Twitter.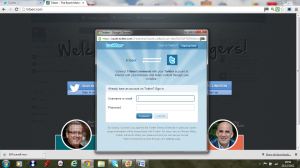 Click on the first box which opens up the screen to the right:
Fill in the relevant details for your Twitter account. This takes you to another page like the one below, where you need to fill in your email address, blog URL and agree to the Terms. You have an option to keep in the loop which just means you agree to receiving updates and emails. Uncheck this box if you don't want those.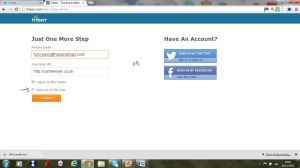 Press the orange continue button and get asked how you would like to log in: Twitter, Facebook or Linkedin? For this tutorial I chose Twitter: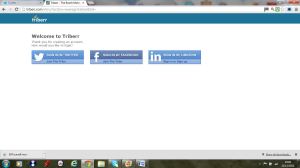 Next, you should get a screen requesting you authorize Triberr to use your Twitter account. Fill out your Twitter user name and Twitter password, then click sign in. This will allow you to enter Triberr.
Getting Started Inside Triberr:
Once there, you will see your profile picture in the top left corner of the screen. It will have been taken from Twitter.
If you click on any of the headings a black box will explain what they are. Now, it's play time…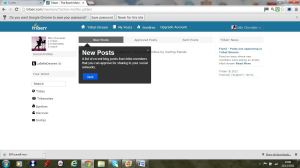 Don't get too bogged down in everything straight away. Let's do this one step at a time. First check out who is here on Triberr and find some chums. Click on the word discover (It's below the word bonfires) on the left hand side, under your profile picture. That'll pull up a list of people under various categories. The first category will be social media. By clicking on each individual name you'll get their whole profile and will be able to send them an invite to join your tribe.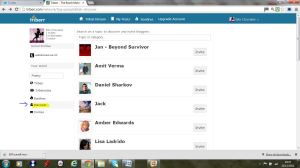 If you would like to find people who share your interests, then type that interest into the topic box above the word Tribes on the left hand side, e.g. Poetry.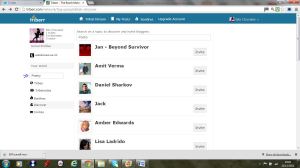 You will now have a choice of clicking on People or Tribes. If you choose people you'll get individuals and if you click tribes you'll get groups of people who have already formed a tribe: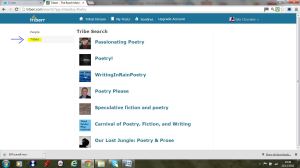 Click on a name for further information or to join that tribe. You can also find individuals you may know by typing their names into the search box on the left hand side: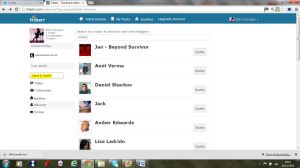 If they are on Triberr, their profile will appear and you can invite them to join your tribe.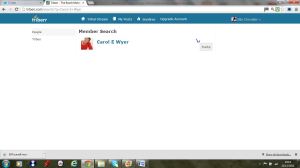 Click on the individual's name to find out more about them and to decide if you want to invite them to join your tribe.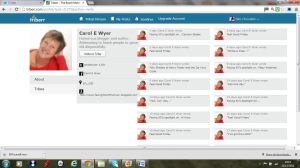 If, by now, you are beginning to feel more confident, try clicking on the word bonfire in the left hand column. You should get a page like this: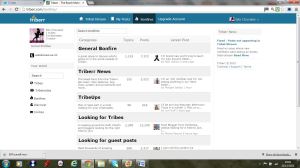 A bonfire is where you can put feelers out for other members to join your tribe, see what else is on offer, and is yet another way to meet people. It is like lighting a virtual bonfire and sending out smoke signal messages to others. (Or, it's like reading messages on a giant notice board.) Explore them and see what you can find out.
Okay, you are now set up. I'll leave you to decide where to find the best place to build your shelter, discover the most likely fishing areas and fill up on berries. Next time I'll explain how to make good use of Triberr so your blog posts get promoted thus giving you more exposure and what on earth bones are.