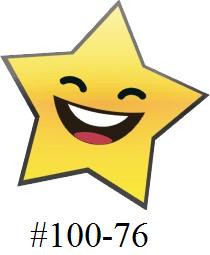 In my ongoing attempt to come up with something to say here every Friday, I am returning to a tried-and-true formula with which I believe I can squeeze out one solid month of columns. Yay, me. 😉
The formula is of course: One star reviews of classic literature. To that end, I will be working off the list found in The Novel 100: A Ranking of Greatest Novels All Time (2004), written by Daniel S. Burt.
Using Burt's list, I will be visiting the usual suspected places and perusing the one-star reviews on all of the books he has selected, with perfect confidence that there will be plenty of one-stars on all of them. I will then list each book with at least an excerpt of what is a reader's authentic opinion of the "greatest" novel in question. My only criteria in picking reviews to share will be that I find them amusing, and that they do not appear to be jokes.
Once again, I am not really doing this to make fun of any reviewers. That may be the funny part, but it's not my point, and to tell you the truth there are some reviews here that I agree with completely. My only point is to offer a humble reminder to all my fellow scribblers that for absolutely any book in question, there is going to be at least one reader out there who thinks it is a steaming pile. That goes for your books, my books, EVERYBODY's books. So when (not if) you get a one-star review, consider yourself to be in excellent company.
(Reviews have not been edited for grammar)
———————
100 Gone with the Wind (1936) Margaret Mitchell
"(I)f we're going to follow Scarlett and Rhett through a thousand pages of melodrama, we have to care whether they live or die. I did care, but I wanted them both to die."
99 The Hound of Baskervilles (1902) Arthur Conan Doyle
"Extremely boring book. I hated it. Too many big words and funky old time talk."
98 The Three Musketeers (1844) Alexandre Dumas
"Don't bother reading it, just watch the Disney movie, it's so much better than the book!"
97 Dracula (1897) Bram Stoker
"For a card carrying member of the evil undead he sure seems to spend a lot of time slinking around."
96 The Good Soldier Svejk (1921-23) Jaroslav Hasek
"The particular, kind of slapstick, humour was readable, but I found the story rather repetetive – bumbling Svejk does similar things again and again."
95 The Woman in White (1860) Wilkie Collins
"If I had to give an example illustrating what deus es machina means, I would chose this book."
94 The Catcher in the Rye (1951) J.D. Salinger
"In my opinion, Holden is the worst character in the English language."
93 The Leopard (1958) Giuseppe Tomasi di Lampedusa
"(E)ven after finishing it I'm still not entirely sure what it's really all about."
92 Frankenstein (1818) Mary Shelley
"First off, the fact that Victor Frankenstein basically plays God the entire first half of the book bothers me a lot. It just isn't right."
91 On the Road (1957) Jack Kerouac
"The book's common thread seems to be characters who will travel thousands of miles in search of a hamburger."
90 Les Miserables (1862) Victor Hugo
"As a rule, I strongly dislike dramas."
89 Uncle Tom's Cabin (1852) Harriet Beecher Stowe
"(T)he reason why I'm such a voracious reader is simple: I read books for aesthetic pleasure. That's it. I really don't give a [edit] about anything beyond entertainment when I read."
88 The Last of the Mohicans (1826) James Fenimore Cooper
"Those damn women just keep getting kidnapped."
87 The Betrothed (1827, 1840) Alessandro Manzoni
"It took me 5 weeks to get through 250 pages and I'm done with it."
86 Nineteen Eighty-Four (1949) George Orwell
"I did not like the novel, but I am just not a fan of post apocalyptic themed literature."
85 Snow Country (1937, 1948) Kawabata Yasunari
"Feel less sure about the geisha situation than I did before."
84 Waverley (1814) Sir Walter Scott
"Really quite boring, if you want to know the truth. Besides, what kind of name is "Waverly" anyway?"
83 Their Eyes Were Watching God (1937) Zora Neale Hurston
"hated it! i'm not sure why, just did."
82 Oblomov (1859) Ivan Goncharov
"All philosophy / pondering the meaning of life, no action."
81 Under the Volcano (1947) Malcolm Lowry
"I guess the style is appropriate since the main character is an alcoholic who spends almost the entire story drunk. It just isn't pulled off very well."
80 Native Son (1940) Richard Wright
"Why must the vast majority of classics focus on the hopelessness and misery that is the human condition?"
79 Candide (1759) Voltaire
"I guess these days this would be called black comedy – a genre I don't find funny today and I doubt I would have in 1759 either."
78 The Sorrows of Young Werther (1774) Johann Wolfgang von Goethe
"Rarely have I been so pissed off at a character in a book, he had everything going for him and decided to throw his life away for some silly tart."
77 Robinson Crusoe (1719) Daniel Defoe
"This is one of those books that really serves to remind a modern audience of why we should kill whitey."
76 The Pickwick Papers (1836-67) Charles Dickens
"My unfavourite Dickens, I've never managed to finish it…"
 (…To be continued…)
Novels 75-51
Novels 50-26
Novels 25-1
And, of course, the article which started it all: Everyone is a (one) Star