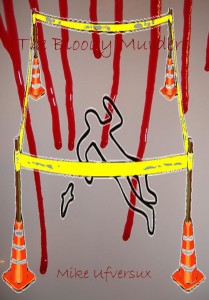 Here's the deal. In March Kat Brooks wrote a post for IU called The Case for Legible Titles. Three months later Brooks did it again, talking about Title Envy. (I'm not going to mention the post she did in 2012 about, you guessed it, book covers. Judging a Book by Its Cover) Oops. That slipped out. All of these posts and others are linked on a very special page, cleverly called Resource: Book Covers.
Brooks doesn't think anyone is reading her posts. So I told her I had the perfect title. Then she kicked the post back to me and said "Are You Stupid?" wasn't acceptable and proposed this one instead.
Why do covers matter so much? Read all those posts and you'll see several reasons. I'll boil them down to just one. Bad cover = Less Sales. It's a simple equation and you don't have to be a math genius to understand. It comes down to what causes a person to buy (or even more important, not buy) your book. Here's how it works.
A potential reader sees your book cover. It might fly by on her Facebook newsfeed. Possibly it is at the top of a blog post where you've been interviewed or your book reviewed. It could be on the Thrifty Thursday post at Indies Unlimited. The most likely is on a list of "also boughts" or one of the other ways Amazon recommends books to its customers. Here's an example. (We'll see if any of these authors notice their own book.)

As an author your goal should be for an Amazon customer to be scrolling past this and have your cover jump out at them. What's going to catch a reader's eye? At this small size, very little detail. But if the overall look doesn't scream romance, thriller, horror, or whatever kind of book this person likes, they'll keep scrolling. Even if they notice your book and then scroll past, that's a win for you, as Lynne Cantwell explained in her post on "effective frequency." Maybe next time, you'll get' em.
Click on the post for Thrifty Thursday above. Scan through and count how many of the titles you can read in this size. Of the fifty-six unique titles, I could read eighteen. Four of them, I couldn't read the title in the larger size displayed when I pulled the book's page up on Amazon. My optometrist is predicting cataract surgery in not too many years, but unless your book will only appeal to readers with 20/20 vision, you're missing out on exposure. I could have been exposed to your title. Instead, at best, there is a unique combination of irregular shapes in a certain color combination that might have taken root in my subconscious, but I doubt it.
Maybe you don't believe me. There is that old saw about not judging a book by its cover. So let's try a little experiment. For those old enough, think back to your last visit to a book store. (If this means nothing to you, your elders once went to stores that sold books made of paper. This will be a good history lesson.) Assume you're there to replenish your to-be-read stack of books with nothing specific in mind. How did you do that? Maybe I'm different, but I'd approach this by going to the section of the store where they kept books in whatever genre I was in the mood to read. Then I'd start scanning the books, looking for covers that jumped out at me, titles that made me curious, or an author name I recognized. Where we buy our books has changed for many of us, but how we go about picking them hasn't.
So we've scanned a few book covers, even more spines with not much more than author and title showing, and we've judged a lot of books by scanning past them. Finally one catches our interest. What happens next? Do we buy it? Again, you may be different, but I wouldn't yet. Maybe there should be a cliché that says people don't buy a book based on the cover. The cover is the first point where a buyer may eliminate your book. It still isn't sold. Next, I'd pick up the book and read the description on the back cover. But that's a subject for another post. Please pay more attention to what Kat has to say in that article. She is, after all, the Blurb Doctor. And, she's getting a complex.
So, while everyone wants to believe that their cover is perfect, well, who am I to judge? BUT, if you scan that monster of a Thrifty Thursday post and you can't read your title, then maybe you need to think again.