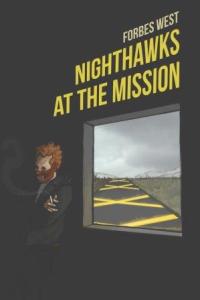 Nighthawks at the Mission
by Forbes West
Genre: Science Fiction/Fantasy
115,000 words
In today's universe, The Oberon is the last place a settler from the USA can find the American dream alive and well. Thousands of settlers have come to live in this mysterious land on another world accessed only by an energy portal in the South Pacific.  Facing a hopeless future and betrayed by her long-time boyfriend, Sarah Orange is one of those who leave the Earth. Quickly she falls in with a group of illegal salvagers that operate at night in the empty ruins. Sarah risks death from both The Oberon's corporate overseers as well as the indigenous beings who hate the settlers. With her life spinning out of control from drug addiction, Sarah searches for love and money in a world so close to – and yet so different from- our very own. But first, she must survive a terrorist threat that slowly begins to destroy her new homeland.
Nighthawks at the Mission, the science fiction novel by Forbes West, is available at Amazon.com and Amazon UK.
Forbes, how did you come up with the title for your book? Does it have any special meaning?
The album cover of Tom Waits's Nighthawks at the Diner inspired the title – it's a picture of Tom's face leering out the window of the diner, smoking. It spoke to me of people up late, shooting the bull with each other at a local spot – something that my characters indulge in.
Who was your favorite character and why?
Scratch – because he's an enigma wrapped in a joke that shows up three times as three (four?) different persons in disguise and all the characters (and a good percentage of readers) don't realize it. He's the dark heart and an Easter egg of the story.
Does your book have any underlying theme, message, or moral?
One theme sticks out:  Heroes can be terrible individuals and villains can have the best intentions.
What would/could a reader or reviewer say about this book that shows they "get" you as an author?
That the book took a chance to be something different from what is normally being read and that the book can be read simply as just a narrative – and then needs to be re-read multiple times to pick up all the clues, asides, allusions and metaphors.
Give us an excerpted quote from your favorite review of this book:
"Nighthawks at the Mission is an epic, fantasy, sci-fi, tour-de-force. It is also a slightly demented, scatter-brained, fragmented, meme-dropping, allusion-riddled, drug-addled, Jack Kerouac-like, stream-of-consciousness mind thumping that dares you…"
Where can people learn more about your writing?
http://offworldnetwork.thirdscribe.com/