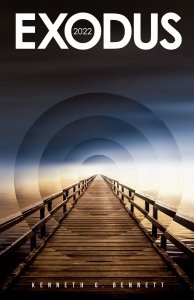 Exodus 2022
by Kenneth G. Bennett
Genres: suspense, post-apocalyptic science fiction
Available from Amazon.com and Amazon UK
When 28-year-old Joe Stanton begins experiencing a severe, unexplained hallucination he's unaware that others up and down the Pacific coast are suffering identical, always fatal mental breakdowns.
As Joe fights to survive, he begins to understand that the vision destroying his mind holds clues to a looming global calamity.
Book Excerpt:
He got to his knees — clawing against the uneven pile of rope — and brushed his eyes with his sleeves. He had to get to water, to a restroom. The burning in his eyes was the worst. Far worse than the other wounds to his face. He lurched to a standing position and the car deck morphed and undulated before him, seesawing, tilting sharply, so that it seemed to Joe as if all those silent, driverless cars might just start rolling backward and plunge into the icy sound. 

Panting, Joe steadied himself against a Ford Explorer and tried again to brush his eyes. No good. His right eye was swollen completely shut now, and his left felt like it had been coated with sticky cobwebs.

He swayed, contemplating his next step. The car deck was a graveyard. No activity except his own tentative movements. No sound except the relentless low-frequency roar of the motors.

He took a wobbly old-man step. One step.

That's when the hallucination came back.
What others are saying:
"Bennett prevails when it counts, leading readers toward a riveting and unequivocally satisfying showdown." –Publishers Weekly