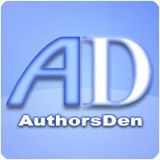 AuthorsDen was one of the first places I joined after publishing my first book several years ago. Back then, my publisher encouraged all of us to actively join any relevant (and not so relevant) social networking sites we could find, and AuthorsDen was not only free, but also easy to join.
Like many of the sites I joined back then, AuthorsDen fell by the wayside as I found new and different ways to market. About a month ago I began receiving emails from them inviting me to upgrade my membership in order to gain access to more services and marketing tools. I decided to take a look.
As I mentioned earlier, a basic account is free. Called "Lite" membership, it offers the opportunity to list your bio, author photo, and books. For each book you can post a cover, description, excerpt, ISBN and ASIN, and your favorite reviews. The upload page looks like this: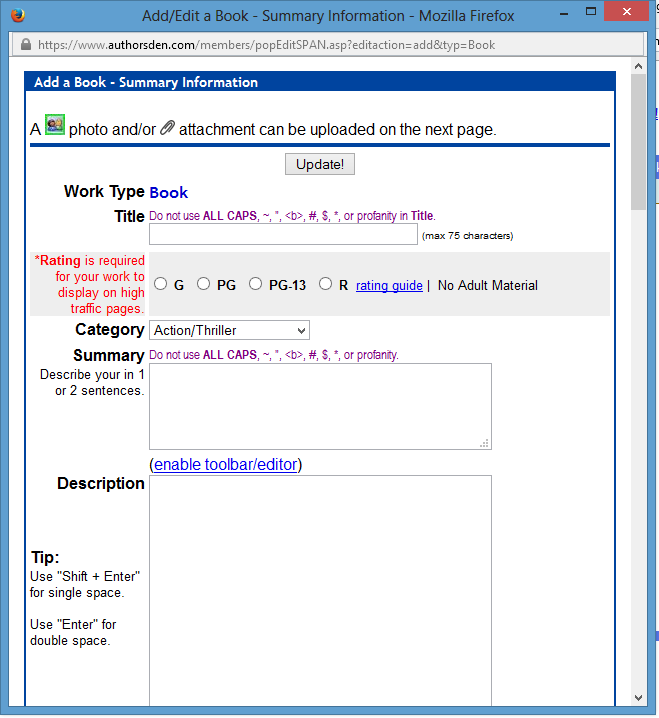 The directions are straightforward and simple, and changes can be made at any time by simply logging back in to AuthorsDen and clicking "My Den."
One particularly nice feature is that you're given a website of sorts with a sharable link that can be posted on your own website, blog, Facebook Page, etc. For example, mine is http://www.authorsden.com/melindaclayton.
All members have access to literally dozens of industry-relevant blogs and news items as well as postings of upcoming industry events. Authors can also post news, poetry, short stories, and blog entries, and can review the poetry and short stories of others.
AuthorsDen also provides a marketplace in which service providers can list services such as audio book recording, ghost writing, editing, manuscript critique, and illustrating. If approved, the provider lists a price, posts a portfolio, and keeps 90% of the profits earned.
All of the previously listed benefits are available under the "Lite" membership package at no cost to the author.
As the emails informed me, however, AuthorsDen also offers paid membership packages (see below). For $25.00 quarterly, the Bronze package promises "more exposure, unlimited posts, unlimited reviews, tracking, stats, link to bookstores, support and more."
The Silver package, at $40.00 quarterly, provides everything listed in the Bronze package plus "BookAds for each of your books, broadcasts to your fans and few ads."
The Gold package provides all of the above plus, for $70.00 quarterly, you'll be "Featured on homepage and top pages, high priority support, ad-free bio page and more…."
And finally, the Platinum package, for $200.00 quarterly, provides all the benefits of the Gold, plus "Permanent Homepage Exposure, a professional book review and eInterview."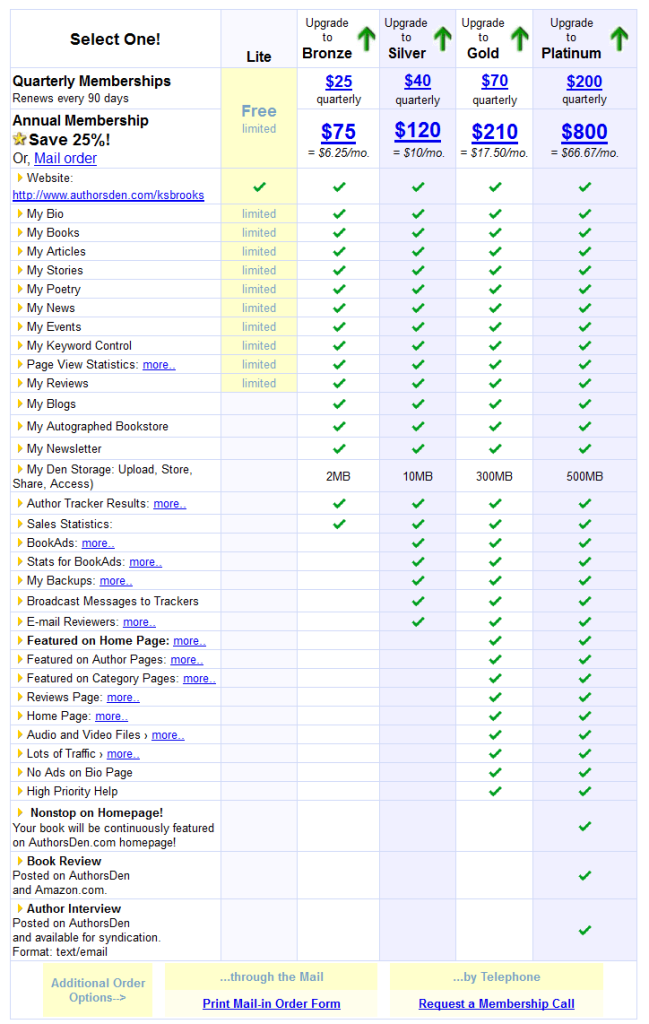 Now to the real question:  Is AuthorsDen a successful marketing strategy?
As with all marketing strategies, I suspect the answer depends on a couple of factors:  First, is it a good fit for the author? And second, how does the author define success?
I can't honestly say I've sold any books as a result of maintaining a Lite membership on AuthorsDen, but at the same time I must admit that other than filling out my profile and listing my books, I haven't done anything to network. I haven't blogged, listed stories or poetry, reviewed the work of others, or otherwise reached out to network.
This is where the "good fit for the author" part comes in. For those extroverted authors who love to social network, who are willing to put in the time to reach out, grow their presence, and make new friends, AuthorsDen may be a fun and effective marketing strategy.
Will it help sell books? My impression is that the main benefit of AuthorsDen lies in connecting with other authors and sharing resources and information, certainly a valuable resource, but not one necessarily designed to result in a huge jump in sales. Again, my knowledge is limited only to my experience, but I'd love to hear from others who have had a different experience.
Although we're frequently bombarded with "musts" for marketing, my belief is that determining effective marketing strategies is a very personal process, particularly when the strategy comes with a price. Because I'm not an extroverted author who puts in the necessary time to network effectively, my personal plan is to continue my Lite membership at AuthorsDen, but to concentrate my paid advertisements elsewhere.