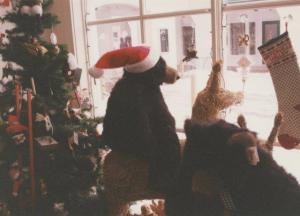 Bears are thought to hibernate all winter. While this is true for most bears, Howard was of a more industrial temperament. He never could see spending all that time simply sleeping when he could be doing something.
When he was old enough, he went to the North Pole and got a job in Santa's village. Of course, he had wanted to pull the sleigh – that's the glamor job.
As it turned out, there was a long list of animals that wanted to pull the sleigh. No, Howard ended up making tinsel. His long sharp claws made him a natural for shredding the sheets of aluminum. Still, he dreamed…
In 250 words or less, write a story incorporating the elements in the picture and/or the written prompt above. Do not include the prompt in your entry. The 250 word limit will be strictly enforced.
Please keep language and subject matter to a PG-13 level.
Use the comment section below to submit your entry. Entries will be accepted until Tuesday at 5:00 PM Pacific Time. No political or religious entries, please.
On Wednesday afternoon, we will open voting to the public with an online poll for the best writing entry accompanying the photo. Voting will be open until 5:00 PM Thursday.
On Friday afternoon, the winner will be recognized as we post the winning entry along with the picture as a feature. Then, at year end, the winners will be featured in an anthology like this one. Best of luck to you all in your writing!
Entries only in the comment section. Other comments will be deleted. See HERE for additional information and terms.