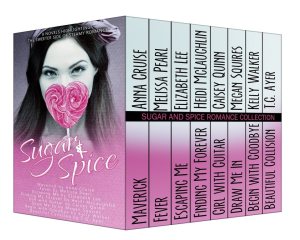 You've probably all heard of a multi-author boxed set by now. Yes – a bunch of authors get together and each put in one book, then they sell this pack for 99c, usually as an introductory price. Some then raise the price; others make it a short term publishing gig. From a reader's point of view, it is a very sweet deal. As an author, you make peanuts, but here are some of the good things that can come out of a set like this…
PROS
You should hopefully get some sweet sales, with it being such a good deal for readers
More sales means that your book is in the hands of more readers
You are hopefully scoring yourself new fans by working with other authors and breaking into their fan bases
Follow-on sales for other books written by you will hopefully ensue
You get to support fellow authors and promote their stuff
CONS
Readers may buy your boxed set, but they won't necessarily read YOUR book. They may only read one or two from the set, so there are no guarantees that all your efforts will be fruitful.
It may not pay off. I was part of one boxed set recently and we barely covered our cover design and marketing costs. It was really disappointing and did not turn out at all like we planned. I guess you win some, you lose some.
The market is getting saturated. I think readers are over the boxed set mania a little. I could be wrong in saying this, but I've been picking up an eye-rolling vibe and wonder if it's time for the boxed sets to go. I'm pretty sure the New York Times Bestseller list is no longer including boxed sets, which I know was once the motivation for many authors – so they could get that best seller title.
Are we training our readers to expect practical freebies? 99c for 8 – 10 books! That is a REALLY good deal. With boxed sets around, will readers simply be waiting and not buying our books unless they are stupidly cheap? What does that say about the value of our work and the hours we've poured into making the writing worthy of reading?
To me, the pros outweighed the cons, and that is why I chose to be part of the Sugar & Spice Boxed Set that came out this month. With that experience under my belt, here are some the things I recommend you consider when putting a boxed set together…for those of you who are keen to try it.
THINGS TO CONSIDER
Make sure you are working with authors who are riding the same waves as you. You want to be working with people who share the same goals. There's always room for discussion of course, but you want to avoid constant battles about minor things
It's always a good idea for your boxed set to have a theme. The purpose of the Sugar & Spice Boxed Set was to reach those readers who like a little spice in their romance, but not full-blown erotica. There are plenty of us out there like that, so we decided to pitch a set just for them.
Which book should go in the set? Some authors make their boxed sets newly released novellas so that content is fresh; others put together boxed sets with books that have already been published. I see the advantages of both and think that, either way, the readers are getting a pretty sweet deal.
How many books should go into the set? I did a survey on my Facebook page and quickly discovered that most readers prefer a boxed set that is between 4 – 8 books rather than a 10+. I thought that was interesting, because I was assuming people would shout out, "The more the merrier! Give us more book for our buck!" Some people did say that, but most found too many books overwhelming and said they didn't bother reading them all.
Despite all that, I'm still not sure exactly how I feel about boxed sets. What do you think of them? Have you had any experience with a boxed set – as a reader or a writer? Has it been good, bad or ugly?