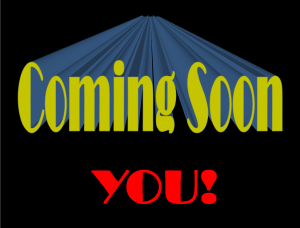 You're not yet published. You don't have a website, or a blog, or an Amazon.com Author Central page. You work. You go to school. You're broke. You have no idea if or when you'll ever get that book finished. But you're trying. Theoretically, you're stuck.
No, really, you're not.
Go to WordPress or Blogspot or any place you can set up a free piece of the internet that will be yours. Grab the link that will be yours before someone else does. Need an example? http://authorksbrooks.blogspot.com is mine. Lynne Cantwell tells us how it was super easy to get her own custom URL on Blogger here (you know, like http://authorksbrooks.com instead of the one I put above). Put up a short and professional biography with a photo of yourself.  Post random thoughts, if you want. Post book reviews you've written, if you want. Post something every once in a while just to make sure they don't deactivate your blog for lack of use. There, see? You no longer "have nothing."
Now, each Saturday, enter the Indies Unlimited Flash Fiction Challenge. Each week, the winner is featured in a spotlight post. If you win, post a link to your entry on your blog. If you don't win, that's okay – post the story you wrote on your blog. Enter to be a part of other anthologies. Once you're published in an anthology – then guess what? You'll be able to set up your Amazon Author Central page and claim that book to it.
This article will explain and show you how to get started with Amazon.com Author Central (you have to have at least one book published for that), Facebook Author Pages, Twitter, LinkedIn, and GoodReads. It's called Setting Up Your Empire. You don't have to be published to get started with these. GoodReads also won't let you set up an author page unless you have something published (so set up your reader profile if you'd like) – but if you're part of an anthology, then you're in. So it behooves you to try to get into an anthology in more ways than one. In this article here, our own Lin Robinson will beat you about the head until you're convinced to participate.
I'd also recommend grabbing your own space on whatever other platforms you may foresee using – like a YouTube channel, Pinterest, LibraryThing, and wherever else you think you might like to participate. This way, if you reserve your "space" on these places now, you maybe have a better shot of getting the handle you need. Try to keep your handle consistent across all the platforms and you'll be building your brand without even trying.  And, you'll develop a following before you actually try to sell them anything. That's the best way to do it.
A lot of people talk about "pre-release" marketing. I'm not an advocate of that. I don't personally like to pigeon-hole myself into living up to deadlines that may not end up being achievable and then I'd look like a big loser to everyone. What if, heaven forbid, you have a death in the family? What if you get sick? What if you decide that you want to do a major re-write? To me, it's fine to have a deadline in my head, but I don't tell the world.  I'm also very protective of what I'm working on. That's another personal preference. I don't advertise my story lines or publish sample chapters before the book is available for sale. But that's just me. I know a lot of successful authors who do just the opposite including book cover reveals, pre-release book video trailer teasers, and more. If you're already set up on the platforms I've listed above, then you can just start sliding this new information into your routine instead of trying to get everything up AND running while you're trying to get your name out there.
Authorship isn't a sprint, it's a marathon. Our Jim Devitt wrote about exactly that in this post. I could give you a bunch of overused similes and metaphors like writing is like farming and sowing seeds and watching them grow and that takes time before they bloom yadda yadda yadda. Cliche, but true.
So, even if you don't have a book published yet, take some baby steps and start building your empire. Remember, Rome wasn't built overnight. Start laying your foundation now. Baby steps. (Okay, so I went with the overused metaphors anyway. So sue me.)