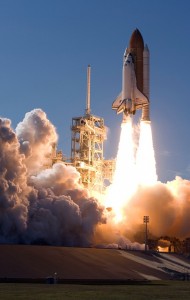 So you've completed your magnum opus and you've just released it out into the world. Time to sit back and enjoy the rave reviews and rich royalties that come rolling your way? No, not quite. You still have some work to do. As a matter of fact, with the reach of the Internet and so many social media forums, there are a zillion things that you could do, should do, can do, to include the new book in your online presence and to get the word out. After all, you want to ride that wave before the 30-day cliff hits!
Having a check list is a good idea, because it would be easy to overlook those areas where you don't check in frequently or spend a lot of time. How many times have you stumbled over an old bio tucked away somewhere, and it doesn't have your last three books? Your profiles are already out there; don't waste the opportunity to tout the new book.
Update Your Online Presence
First off, claim your book as soon as it goes live on Amazon so it appears on your Amazon Author page, since most likely that's the place where you'll be seen by the majority of readers. Update your profile there, if necessary. Then do the same for the major social media platforms: Facebook, Twitter, Google+, LinkedIn, Pinterest, Instagram, etc.
Update your profile on all the book sites you belong to: Goodreads, LibraryThing, etc. Sometimes it's hard to remember all the places you've joined; hopefully you've got a list of them (with passwords) so you can knock those off pretty quickly.
If you've got a video trailer for your book, upload that to YouTube and your author Facebook page. Don't forget to add this to the IU likefest for YouTube when that comes around.
Update all your own pages. This can include your personal website, your blog, your newsletter. It might be a good time to get a new professional portrait, as well. How old is that one you've been using?
While you've been putting your book out there everywhere you can, you may have run into the stumbling block that different sites require a different length of book descriptions. Be ready for this by creating two or three book descriptions as follows:
one sentence, tweetable (140 characters);
two or three sentences;
a full paragraph.
Know your word count on each of these versions for the various requirements. You can keep these in your press kit (see below).
Update Your Backlist
If you've got older books, you've most likely included the names and possibly the descriptions of all your books in either the front or the back matter. Obviously at some point you need to add the new book to that material. This could be a long and labor-intensive process, but definitely necessary at some point. Many authors are adding a sample chapter to the back of their older books, as well. This can be especially effective with eBooks, as the reader can easily order and download the book if the sample chapter grabs them. Love that instant gratification!
Media
Once you've got the book presence uploaded everywhere you can think of, the next step, of course, is to drive traffic to it. First, you need to create a sell sheet with all the pertinent information for your book. This might include:
Title
Genre
Availability: Trade Paperback, eBook
Publication Date
Author
ISBN-13
ISBN-10
ASIN for eBooks
# pages
List Price
Available from Amazon. Com (link)
Book Description
Reviews
This will be your go-to resource for anytime someone asks about the book or anytime you can get a plug in. It's a good idea to keep this in a media file not only on your computer, but on Dropbox or some other cloud storage so you can get to it no matter where you are.
Using the above information, you can now send out press releases to local newspapers or newspapers in places that figure in your book. I've found that if my book takes place in Smalltown, Idaho, newspapers there want to know about it. You might be surprised how much interest you can stir up when people find out their town is the setting for a new book.
If you're unsure about how to write a press release, IU has a tutorial on that here.
Promotion
Promoting your book is a continual activity, but there are ways to make a splash with the new title. Here are a few:
It's a good idea, too, to get or make some freebies (also known as swag) to hand out when the opportunity presents itself: bookmarks, magnets, keychains, etc. Talking to people about your book is fine, but it's easy for them to forget as soon as they walk away. If they take away something physical, they're reminded of the book every time they look at the freebie.
Then, after you've done all that, then you can sit back and rest. At least until the next idea strikes!