Last week, we showed you the shortcut method to claim a book to your Amazon.com Author Central page. If you missed that article, you can read it here. If you want to do it the more reliable way, we'll show you that method today.
In order to claim a book to your Author Central page using this method, you must log in to your Author Central account. You can do that here: https://authorcentral.amazon.com/. Once you're logged in, your home page will look like this:

Click on "to your bibliography" which I've highlighted in yellow above. That is where you will see this:

I always use the ISBN number so there is no room for confusion as to which book you're trying to add. Once you've put your information in, click Go. You'll then get this screen: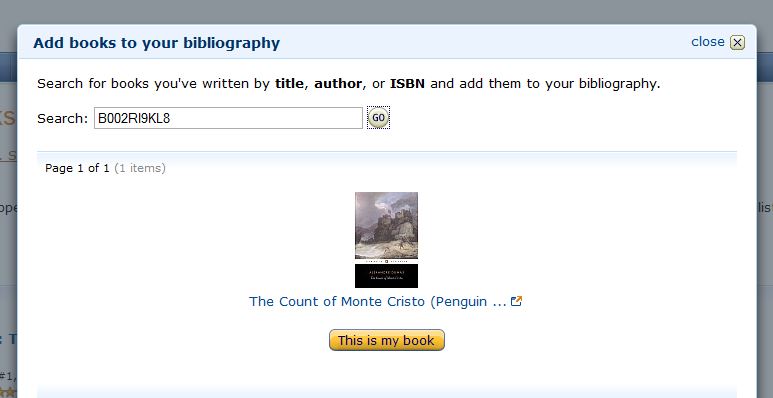 If the book they show on the screen is yours, then go ahead and press the yellow button which reads "This is my book". Yeah, that's right, Dumas. I'm coming after you.
You can also add a new book by clicking on the Books tab at the top of your Author Central page which I've circled in yellow below:

You will then get the following screen: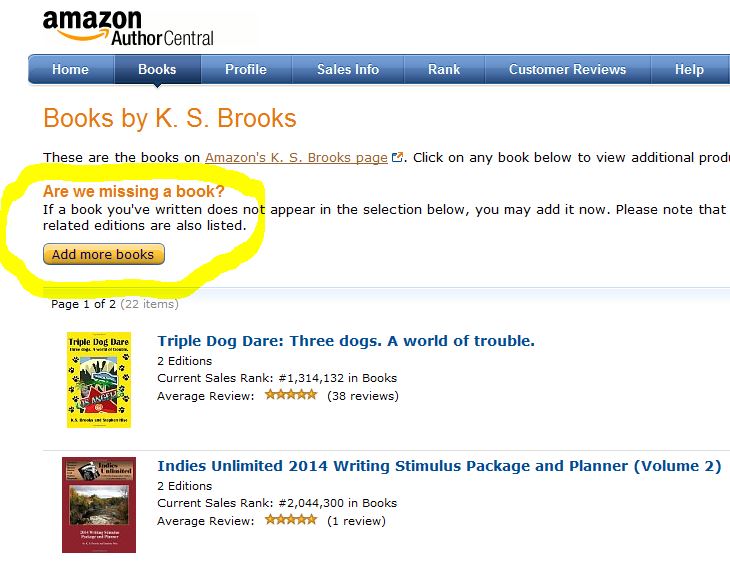 If you click "Add more books" it will bring you to the second screen in this tutorial.
And that's all there is to it. Tomorrow we'll be having an Author Central page likefest, so get your page updated.
Here are some other Author Central related tutorials for you:
Amazon.com Author Central Page Tutorial
Amazon.com Author Central Book Edition Merge Tutorial
No, your book is not Linked to Your Author Central Page
Amazon.com Author Central is a fantastic tool for authors. Don't miss out on its functionality.