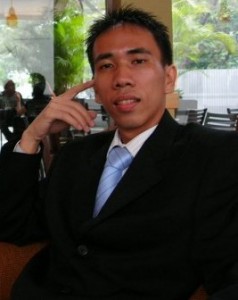 Author Helmy Kusuma has written two romance novellas, Mementoes of Mai and Cinta 3 Sisi (not in English). These works fall into the category of realistic fiction, faction, or as Alex Canton-Dutari says, "non-fiction fiction."
Helmy says, "Based on the verbal and visual feedbacks (btw, visual being facebook and the likes) of those who had the pleasure (or not) of reading them, I wrote beautiful descriptive paragraphs which yanked people from their seat (or divan, or bunk…, or toilet, or wherever they had chosen to read) into the scene of my novellas." Helmy says this explanation makes more sense if you just go to the links provided and click "buy."
Helmy finds inspiration though what he calls the "unique filter" through which he perceives the world. He does not go on to explain what he means by that, but Helmy has a professional background in information systems software. I think we all know what that means. He's a cyborg. That gives you a unique filter, all right.
Helmy describes the challenges of writing as, "Everything from sitting in front of a computer to the actual typing of letters and punctuation, I find challenging. I mean, would it be cool to just perceive, imagine, and the whole thing would just be magically typed, edited and formatted?" Hmmm… sounds suspiciously like Helmy is tired of the human-computer interface.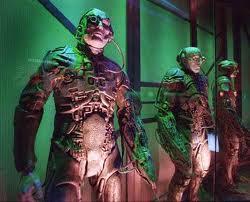 He continues, "Yeah, by wishing out loud that someday, in the not-too-distant future, a manuscript is produced this way, I could rest assured, type, edit and format my ideas." WHAT???
Helmy recommends the use of beta readers, especially ones who are willing to go the extra mile. He reports his experience with the beta readers he has used has been most positive. (Gulp.)
Helmy describes his assimilation—I mean, "marketing" efforts as predominately involving social media.  "I have been trying to put myself on every media heard, seen or whispered. I joined groups and forums but haven't invested much time on socializing there…" Not much time socializing on social media, huh?
Helmy's advice to the human inhabitants of this planet? "Read material that is not too complicated, soothing, nostalgic, lovely, descriptive, and beautiful. You know where to get it, just search for Helmy Kusuma on search engine." RESISTANCE IS FUTILE.
A Flash of Inspiration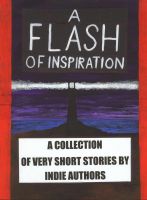 What happens when a bunch of authors challenge each other to write lightning-fast stories? A Flash of Inspiration! In one hundred words or less, twenty-one writers titillate, beguile and enthrall your senses with stories ranging from the sublime to the macabre. #3 of Anthology ( Kindle's download ) as of 5 September 2011.
Available from Smashwords, Amazon US and Amazon UK.
There Is Hope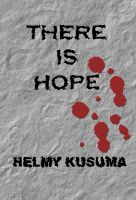 He panted. Every sip of air seemed to burn his lungs. The air was thick and sticky; it smelled like rotten fish mixed with ammonia. He could feel the rough concrete against his back; he shifted his position and stole a glance at the east ramp. Nothing. Only darkness and stillness. It just made him more alert; the quietness was somehow out of place.
Available from Smashwords, Amazon US and Amazon UK.
Mementoes of Mai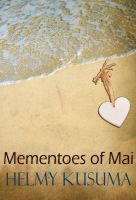 A mundane office life is suddenly changed into something entirely different in a flick of a hand… And now he must make up his mind to pursue the love of his life… Would he be able to reconcile his past and his present to step into the unknown territory of the probable future?
Available from Smashwords, Amazon US and Amazon UK.
Also available in print from CreateSpace.
Learn more about Author Helmy Kusuma at his blog. You can also find him on Goodreads, Facebook, and Twitter.