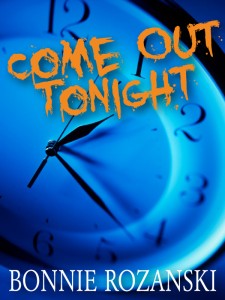 Today, we get a sneak peek of author Bonnie Rozanski's novel, Come Out Tonight:
Henry Jackman, a pharmacist's assistant working in a run-down drugstore in New York City, wakes up one morning to find his girl friend unconscious on his living room rug. Someone has attacked her. He calls an ambulance, and manages to get her to the hospital alive but comatose. There she progresses from coma to vegetative state, never quite becoming conscious… until the day Henry gives her Somnolux, a new-generation sleep aid.
Henry, an insomniac, has himself been taking Somnolux. He has been experiencing blackouts, something he doesn't quite admit to, not even to himself. There is evidence he's been doing some strange things in his sleep: women's underwear turns up in his drawers; sexy women in his bed. Could Henry have attacked his girlfriend himself without any knowledge of the fact?
Come Out Tonight is available for Kindle from Amazon and for Nook from Barnes and Noble. Continue reading "Sneak Peek: Bonnie Rozanski's "Come Out Tonight""