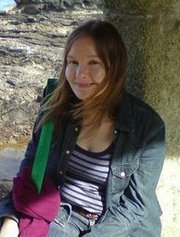 Author Vickie Johnstone  says she is not quite sure what sets her writing apart, except that when she does start writing, she writes very quickly. Bad news for slow readers I guess. "My poetry is like flash poetry – I write it without thinking really. . . I was walking home from the supermarket yesterday and I happened to look at the moon. It had this big, shadowy cloud passing across it like a scarf and it inspired a little haiku poem. . ."
Under a twilight moon
In the shadows she dances
With amorous guile
So, when Vickie writes something without thinking, she gets a pretty little poem. When I write something without thinking, I get a visit from the Secret Service. C'est la vie.
Vickie says her inspiration can come from anywhere. "In the shower, when I'm about to go to sleep, when I'm on the train, when I'm walking down the street. It can be anywhere or any time. Nature is inspiring and fresh things. If I see something new, it will inspire something! I like change – that's inspiring. Also some people are really inspiring – I've read about people who squeeze every second out of the day in order to find time to write or those who have health problems who are writing. They're inspiring. It's most noticeable when you don't have it though – when it has run away and hidden behind the fridge or somewhere," she says.
Finding the time to write and then marketing what she has written are the two challenges Vickie identifies as the biggest for her. She says, "I'm up at 7 and home at 7, and I'm a sleepyhead, so that leaves after work and the weekend. I wish I could work part-time and write more. Marketing is the biggest challenge for me – I am rubbish at it. There are so many opportunities and so many things to use to promote your book, but I find it all a bit confusing! I've been writing a lot this year. It has been great. A big nod to the inspiring Book Junkie group – I've gained a lot of help, advice, laughs and friends there. 2011 goes down as my most prolific year. I've written three books and some poetry. In the past, I was always writing poems. I've got books of them. However, they're short and I write them fast, but, with writing a book… that was another story. I was always beginning things and not finishing them. That was my biggest challenge. Starting was fine, but carrying it on and finishing… it just didn't happen. I wrote Kiwi in Cat City in 2001 because I was out of work for about two months. Apart from that, I never finished another book. Until this year. I really hope I've kicked that habit. Touch wood."
Vickie has not used beta readers, but likes the idea. "I've edited my stuff myself and I've been putting it out there, so to speak, without anyone reading it, which was scary. But there are some brilliant beta readers in the Book Junkies group… Catherine, Sue, Annarita… to name a few. I signed up to be one, but with writing and work, I don't get a chance to help out. It's a great resource! I had some brilliant news last month in which a US publisher, InknBeans, took on my books, so now I'll have someone reading them before they are published. Good news for readers (!!) and I'm looking forward to seeing what this brings."
Vickie finds marketing frustrating—as do many of us. "To be honest, I am not good at this. Many other writers are much better. I do SampleSunday, advertise it on FB and twitter. I use twitter and follow people, and hopefully tweet something remotely interesting. Perhaps all of my followers are now asleep! I have a blog on which I've put my reviews, reviews of books I've read, interviews with other indie writers, and bits of my writing and poems. I used to promote my books more on FB but I started to feel like a spammer so I don't do it as much. I just signed up to Kai's Christmas promotion. I seek reviews – I got some amazing ones from two top Amazon reviewers to start me off – I was gobsmacked when I read them. Since then I ask for reviews. It's scary as someone might hate your book, but at least you'd find out what was wrong and you can improve it. I'm on Goodreads, Kindleboards, Book Blogs. My problem is time – I'm lacking the time to make the most of these places. To be honest, I find marketing like wading through quicksand. I need a secretary!"
Vickie says 2011 was a year of discovering herself as a writer and discovering other writers – birds of a feather who flock together in Book Junkies, the Indie Author Group, etc. She is an avid reader of other indie authors. "All of the books on my Kindle are indies. I'm currently reading Valerie Douglas' Not Magic Enough. I've read your book, Upgrade!; Jonathan Gould's Flidderbugs & Doodling; Greta Burrough's Gerald and the Wee People & Patchwork Dog and Calico Cat; Rebecca Johnson's Moonflower Dreams; Michael Mullin's 8; Kender MacGowan's Watering the Tree; Shaun Allan's Zits n Bits & The House on the Moor; Leland Dirk's Angelo's Journey; Alex Canton's Remember in your Dreams & Her Peaceful Sleep; Edward McNally's The Sable City; Gary Hoover's Land of Nod; Susan Wells Bennett's Circle City Blues; Helmy Kusuma's Mementoes of Mai & short stories; Bryan Lee's The Weekender; and Kitty Sutton's Wheezer and the Painted Frog." Did you notice that? She's read my book!
Her advice to aspiring writers? "Go for it. Follow your dream. It's amazing when you publish your book. And I can't describe what it's like to have someone say they liked your book or even loved your book. Words can't describe that. It's a bit overwhelming. It makes it all worthwhile. I mean, you'd write anyway, but that's the icing on the cake. Dreams coming true and all that."
Vickie's newest title, Three Heads and a Tail is the result of her efforts in NaNoWriMo just this past month. The book is currently in editing, and the release date is unknown at this time.  The book is about a girl, two guys and a dog. Vickie says this one is more for adults and describes it as a sort of quirky fiction romance. "It was made up as I went along – I didn't plan it. My fave character is the golden Labrador – he has all of the best lines," she adds.
Learn more about Vickie and her writing at her blog. You can also find her on Facebook and follow her on Twitter. All her titles are listed below. Her books are also available at the Breakthrough Bookstore – supporting small bookstores.
Kaleidoscope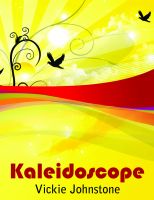 A book of 119 poems about people, life, philosophy, animals and nature. It is structured under eight themes: figures; nature; abstracts; love; haiku; creatures; childhood and darkwave. "Wow! This author writes beautiful words. I enjoyed each & every poem, I found myself turning page after page to read the next & the next. More of the same please!" (Smashwords review, wistfulskimmie, May 2011)
Available at Smashwords, Amazon US, and Amazon UK.
Kiwi in Cat City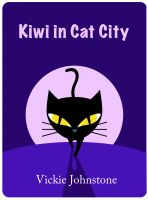 Book 1 in Kiwi series. One dark night, Amy cannot sleep and looks into the garden to see her cat, Kiwi, transfixed by the moon, glowing weirdly like a cat's claw. Waking her brother, James, they follow Kiwi. Little do they know that, with a flick of her tail, Kiwi is going to lead them on the adventure of their lives to Cat City where Inspector Furrball needs help finding some missing catizens.
Available at Smashwords, PublishMyBook, Amazon US, and Amazon UK.
Kiwi and the Missing Magic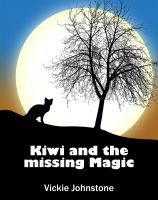 In book 2 of the Kiwi series, Cat City is at risk of invasion and some of the Magic has gone missing. James and Amy embark on a new adventure that will take them to the Land of Giant Mice, meeting some new characters along the way, including the Worry Bee, Whiskers and Moggie. Can the children help Kiwi save the day? And what part will James' hamster, Hammy, play?
Available at Smashwords, PublishMyBook, Amazon US, and Amazon UK.
Kiwi and the Living Nightmare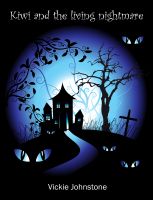 In book 3 of the Kiwi Series, Amy, James and Kiwi embark on their spookiest adventure – on Halloween. What begins with an eerie dream about a three-legged cat will take the budding detectives on a quest to find an old house in the woods, meeting some familiar characters and some perky squirrels along the way. But there awaits an angry presence that will do anything to stop them leaving. Age 10+
Available at Smashwords, Amazon US, and Amazon UK.
Travelling Light – a free preview book of poems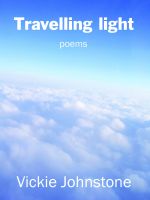 A handful of poems about people wandering the world, searching for something new, with their suitcase of dreams
Available at Smashwords and Amazon UK
Vickie was also a contributing author to the flash fiction anthology, A Flash of Inspiration – A collection of very short stories by indie authors (anthology)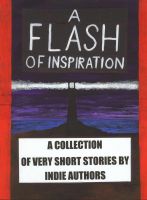 What happens when a bunch of authors challenge each other to write lightning-fast stories? A Flash of Inspiration! In one hundred words or less, twenty-one writers titillate, beguile and enthrall your senses with stories ranging from the sublime to the macabre. #3 of Anthology ( Kindle's download ) as of 5 September 2011
Available at Smashwords.