Today we're pleased to announce the winner of the fifth weekly "Writing Exercise with a Twist" here at Indies Unlimited.
The winning entry is rewarded with a special feature here today (which is totally cool—you can't put a price on cool), and a place in our collection of winners which will be published as an e-book at year end.
It was a very tight competition this week, with the 11 entrants receiving a total of 121votes.  With 26% of those, the winner is: Contestant #4– Krista Tibbs.
Congratulations to Krista, and thanks to everyone who participated – excellent entries! Now, without further ado, (cue fanfare) here's the winning entry:
The Rendezvous by Krista Tibbs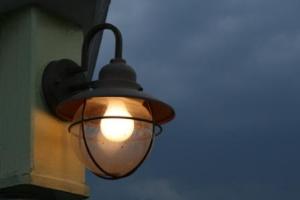 She wished for the sun to set faster, to bring dusk, when the streetlamp would flicker on and he would be here. A fallen leaf skittered down the street, running from the autumn chill. A stranger hustled by, then hesitated. She shrunk against the brick wall of the candy store but there were no shadows to hide her.
"Are you lost, little girl?" She shook her head and the stranger walked on.
She let out a breath and looked up again at the dark streetlamp and the sky beyond it, now streaked with purples and reds and white wisps of cloud. She wished she had worn her mittens so he could hold her hands in them like he did to make her feel cozy and special and safe. She shivered.
"Candy!" She heard her name and turned, relieved to see her mother rushing toward her. "Thank heavens I found you! What are you doing here?" Her tiny hands clutched his poem to her heart, protecting the words they had read aloud every night. "Oh, sweetheart," her mother said, then encircled her in her arms, and she was warm.
Look for me in our favorites spots,
In the books we read, in the candy shop.
I'll be with you when you start to school
On the autumn wind, in a new found friend.
Look for me, and there I'll be
In the flicker of light when the day turns to night.
I'll be there with you always.
[subscribe2]