Ah, yes. It's been a year since the inception of Indies Unlimited and nearly that long since I joined as co-conspirator…I mean co-administrator. So here I recline, upon a body pillow stuffed with the money I've made here, and showered with Canadian dollars (I prefer those because they're colorful) by handsome hockey players I was able to hire cheaply because of the NHL lockout. Oh, wait. I guess that's just in my mind.
After all, Indies Unlimited is staffed completely by volunteers. Any money I've made is thanks to Rich Meyer whose recent tutorials about how to make book covers gave me the brilliant idea to start printing money on my inkjet. Of course, I haven't tried to spend any yet. Do you think they'll pass?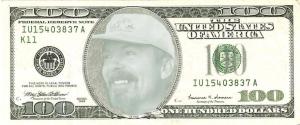 Of course, I've never been in this thing for the money. I've been in it for the fame and adulation. Money usually follows that. I like that my weekly tutorials help people. But what I really like is that people now consider me an industry expert. Ha! People will believe anything, won't they? But I digress. This isn't about me. But what the hell, let's talk about me some more anyway. Or not.
We should be talking about Stephen Hise. Indies Unlimited (also referred to as IU) was his brain child. I've never met anyone with his vision, determination, creativity, or altruism. He's also quite good at extortion. I don't want to talk about that anymore.
How amazing is it that Hise could create a one-man-show blog in October of 2011 that within six months would grow to a staff of over 20 international authors – and win a position as finalist in the Independent Book Blogger Awards?
As I look back over the past year, it's sort of a blur. That might have something to do with the after effects of the ether. At least my hair grew back where the duct tape pulled it out. In any case, of all my IU memories, I'd have to say my favorite was the April Fool's joke when Hise touted his novel Upgrade as the World's Most Expensive eBook. (Article here.) Only three people were in on this prank – me, Hise, and believe it or not – the one and only Mark Coker. How cool is that?
That was fun. Indeed. The best thing about Indies Unlimited, though, is not the fun, or the great tips, like-fests, interviews and articles. The best thing, in my eyes, is the sense of community this site has forged. I feel like I'm a part of something meaningful, helpful and global. IU has been instrumental in building my confidence and boosting my book sales. Hise says the latter is due to racy photos of me that someone posted online with a link to my Amazon.com author's page. Somehow, I don't think so.
So today I'd like to thank Stephen Hise, that guy I initially thought was creepy for stalking me, for inviting me to be his co-blogger. All hail the Evil Mastermind!