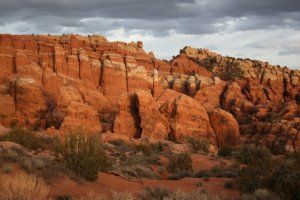 Marshall Briggs signaled for the posse to halt. Truth is, most of us were done in after two days' hard ride.
This is where it was likely to get bloody. The Cheyenne Kid and the Black Rock gang had made it to the Wall.
From there, they'd be able to pick the posse apart on this open ground. But the Marshall wasn't the kind of fella to give up quite so easy as that. He called for the men to dismount and gather around. It was then he revealed his bold plan.
In 250 words or less, tell us a story incorporating the elements in the picture. The 250 word limit will be strictly enforced.
Please keep language and subject matter to a PG-13 level.
Use the comment section below to submit your entry. Entries will be accepted until 5:00 PM Pacific Daylight Time on Tuesday, October 23rd, 2012.
On Wednesday morning, we will open voting to the public with an online poll for the best writing entry accompanying the photo. Voting will be open until 5:00 PM Thursday.
On Friday morning, the winner will be recognized as we post the winning entry along with the picture as a feature. Best of luck to you all in your writing!
Entries only in the comment section. Other comments will be deleted.