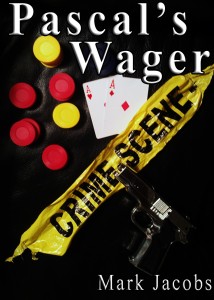 Pascal's Wager
by Mark Jacobs
Genre: Detective Mystery
60,000 Words
Destined for a brilliant career in academia, Pascal Silver instead decides to be a risk taker. Packing up his unfinished philosophy dissertation, he moves to Las Vegas to pursue his dual goals of winning the World Series of Poker and the only slightly less daunting task of finding the meaning to existence.
Low on cash, Pascal is forced to take part-time work at a private detective agency. Now, with his boss out of town, into his life walks the gorgeous Allegra LaPierre wanting to know who murdered her father, casino owner "Houston Phil" LaPierre.
Employing his uncanny poker skills, Pascal can tell everyone involved has something to hide including Phil's ex-stripper widow; his knucklehead son, Bruce; and his partner, Fat Johnny, who's in debt to a local gangster. Complicating matters, Bruce LaPierre is suddenly found murdered and suspect number one is Allegra. Though all evidence points to her guilt, Pascal falls back on the famous wager of faith put forth by his illustrious namesake. He chooses to have faith in Allegra, not just because he's fallen for her, but because it's a good bet.
But when representatives of the Chicago mob show up telling him to drop the case, Pascal has to take his greatest gamble yet. With Allegra's life hanging in the balance, he'll need to pull off the biggest bluff he's ever attempted to save her. Even if he does, he's still left with the question "Who killed Phil?" a question only he is shrewd enough to answer.
Pascal's Wager is available from Amazon, Smashwords, and Barnes and Noble.
Mark, how did you come up with the title for your book? Does it have any special meaning?
The title's a play on words borrowing from the famous dictum of philosopher Blaise Pascal regarding faith in God. Being a story about a former philosophy student turned gambler it made sense, plus I incorporated the whole idea of faith into the question of whether Pascal should believe his client.
Who was your favorite character and why?
Obviously, the main character, Pascal Silver, was my favorite since it's told from his perspective. James Joyce once said all good fiction is fantasized autobiography so I guess you could say I fulfilled my desire to be a cool poker pro who solves mysteries, battles gangsters and gets the girl.

Does your book have any underlying theme, message, or moral?
You mean besides "Buy it!"? Actually, I guess you could say if there's any theme, it would be summed up by a line in the beginning where I say "…if you're not willing to risk everything, you limit your upside as a poker player. Maybe as a human being, too."
What would/could a reader or reviewer say about this book that shows they "get" you as an author?
Perhaps "Mark Jacobs is the greatest writer since Shakespeare"? Seriously, if they say they found the book well written, entertaining, humorous and got some of the deeper questions I touch upon, like the value of taking risks, I'm happy (that plus saying I'm the greatest writer since Shakespeare).
Give us an excerpted quote from your favorite review of this book:
"Take someone you consider cool on a movie, add a gambling problem and make them have an understanding of almost all disciplines of Philosophy. Do that and you've got Pascal."
Where can people learn more about your writing?  http://www.writingfighting.wordpress.com