Have you ever done something that seemed silly but you really hoped it worked?
I have, and I'm here to tell you all about it. It's a little embarrassing— admitting that I actually did this and believed in it.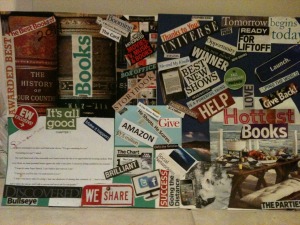 The month before I published my debut novel, The Card, I created a manifestation board. You know, one of those collage type of things that have a bunch of pictures of what you want to accomplish or acquire. You've probably heard about them in books or movies like The Secret.
Well, I did it. I cut out a bunch of pictures and words that related to life and my new writing career. The picture is proof.
Here are some of the key points that I included. Some things are going to sound silly to a lot of you, but hey, you have to start somewhere.
Let's start small. I cut out pictures of things like an iPhone and Kindle. Back then, I didn't have those things. Check and Check. Like I said, some of these things you're going to say, "No big deal," but for me, they were. I didn't have them.
I was a neophyte with social media, so I included symbols that related to that. Today, while not an expert, I've created a nice following and have created a social media marketing company, working with clients from Manhattan to Miami.
I included things that spoke about how I wanted to be—helping others and giving back. I know that a piece of paper is not going to change me, but looking at this daily reminder keeps it in the forefront of my mind. Since then, I've been invited to the staff of Indies Unlimited, where (I hope) I help people every week and I've refocused on instituting regular donations to causes that are important to me.
I included the first page of the first chapter of the edited manuscript of The Card, red marks and all. I was bold enough to plaster "bestseller" all over the page. Why not? Isn't that what we want? Sure enough, The Card has hit number one in its category multiple times.
This board has been sitting in my writing room, has traveled 5,000 miles in the car across the country and now sits on my bookshelf where I live now. It's become so familiar. I've gotten over being embarrassed by it. I don't care if anyone sees it. It's a part of me. Matter of fact, I think it's time for a new one! New goals, new dreams.
Has everything happened that I included on the board? Not yet, I'm still waiting to be optioned for a movie and of course, the video game—but, there is no time limit in the universe. 
So give it a try. Let me know how it works for you. Get silly, dream big.