What would happen if you threw a party and no one came?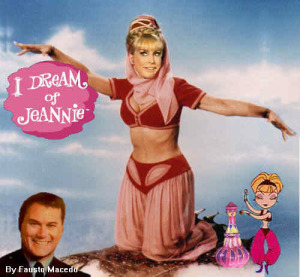 Do you ever feel like that in our world of indie writing and publishing? We continuously talk and promote our books through Twitter, Facebook and other sites. We talk about these things all the time on this site. Hell, I am one of the biggest proponents of social media. In fact, I earn the majority of my non-writing income now from helping companies set up and maintain social media sites and campaigns.
How necessary is it?
Sometimes you want to unplug. Get away from it all. Problem is, when I try to do that, this superconducting magnet called my iPhone or computer pulls me back. It's tough during down time to get away from it all, at least for me.
So recently, powers out-of-my-control forced me from engaging in the majority of my online interaction. I just moved the family up the coast to Merritt Island, FL, right next to Cocoa Beach, you know, I Dream of Jeannie land? The Internet was supposed to be working the day we arrived. Ten days later, still no Internet.
This wasn't the, "Ah, I'm on vacation," type of no Internet, this was an out-of-my-control no-access type of no Internet. You know what? It was liberating—except for the fact that I earn my income through the Internet! My phone blew up trying to manage several social media campaigns for my clients. But, as for my own personal book marketing and social media interacting, I went to a complete zero (Just ask the fellow IUer's here, they'll tell ya.)
So, here's what happened … nothing. I don't mean that nothing happened in book sales, oh, that continued like usual. The Card managed to hang around in the Top 25 on the Kindle Bestseller list for its category; the paperback version sold better than it had in a while.
Go figure.
I guess this proves that all the time we waste promoting our stuff is worthless. Either that, or we hit a critical mass where the book takes on a life of its own. People who are buying my book actually want it! Amazing.
To test this theory, I took it a step further. I've always been a big fan of the "free" book day concept. Every time I've engaged in that marketing initiative, I've had great returns and I get a bump from that for a week or two after—more sales and ride higher in the rankings.
This time, I put the book up for free and didn't tell anyone. I didn't Tweet, post, blog or subscribe to all the usual freebie sites. Guess what happened.
Nothing. Beyond a few downloads that occurred, not out of line with the daily sales that I see, there was no great run on The Card. So—there goes that theory. My book sells fine when people have to pay money for it and I'm not pimping it, but for free, it does basically nothing when I don't mention a peep about it.
Wish I had an analysis that made sense, but I don't. Just offering up another insight into this crazy indie writing and publishing world in which we exist. In the end, I threw a party and no one came. Which makes us question whom the thousands of people are that take free downloads of our books when we pimp them through "free" sites. Are they readers or just people who like free stuff?