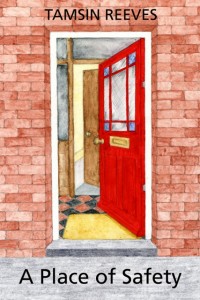 Today we have a sneak peek from author Tamsin Reeves' psychological thriller, A Place of Safety.
Martha is struggling to restore some stability in her life, which has been in turmoil since her husband walked out on the family to join his pregnant girlfriend. She takes in a lodger, an asylum seeker, who fled Afghanistan but cannot escape the violence which pervades his dreams. An undemanding friendship grows between Martha and Ismail but how well does she really know the stranger in her attic? When a local girl disappears; a girl who visited Ismail's room, Martha realises her house is not a place of safety.
A Place of Safety  is available on Amazon.com, Amazon UK, and all Amazon locations.
Here is an excerpt from A Place of Safety:
---
The attic had become a dumping ground for things we didn't want and couldn't bear to part with. Carly and Alice came over to help. We were ruthless. All Colin's stuff hit the skip and a lot of mine. We prised old teddy bears from Jessica's arms. Josh was sulking in his bedroom. Then we found the travel cot and changing mat. Carly and I stared at them. Alice closed in before we had time to become maudlin.
'It's expensive to replace these things,' I protested, but it was too late.
By the time they left, the attic was impersonal and clean. Jessica and I were still trying to make it look cosy when Ismail arrived.
I raced downstairs and opened the door to a clean-shaven, softly spoken man.
'You are Mrs Anderson?'
It was a frosty evening and he had the collar of his leather jacket turned up. I could see remnants of Genghis Khan's genes in the slightly oriental features but he was taller than I expected and had green eyes. It was difficult to guess his age. Somewhere between thirty and forty.
'You must be Ismail. Come in.'
He took his shoes off at the door, which I liked. But he wouldn't sit down in the living room. He kept looking round as if he expected someone more interesting to walk in. I smiled but he didn't. I wasn't sure if he was nervous or arrogant. He seemed pretty surly. We discussed rent, terms and conditions. He kept nodding and I searched for a polite way of saying I didn't want him. I'd have to show him the room first. Then I'd tell him there was someone else to interview and promise to let him know. He followed me up to the attic and smiled at Jessica, so he could smile.
'I am Ismail.' He shook her hand. Good tactics. She liked that. He was taking her seriously, treating her as a grown-up.
'My daughter, Jessica. She's been helping me clean the room.'
'Thank you. Is very lovely,' he said and drew out a tape measure. I began to warm to him. It would be difficult to say no anyway, after he'd gone to the trouble of measuring it up. And no one else would ever call the attic lovely.
'You help Ismail. Hold the tape measure while I make some tea,' I said.
I heard them all clattering downstairs a little later. Curiosity must have dragged Josh away from his computer game.
'Joshua's my brother. He can be very noisy.'
'Is okay. I like noise.'
'And anyway, I'm not noisy,' Josh shouted.
I prepared some cheese and biscuits to give them time together. I'd leave it to the kids to decide. If they liked him, he could have the room. When I took the tea through, Ismail was sitting cross-legged on the floor showing Josh how to fold a paper aeroplane. That sort of thing would really piss Colin off. I offered Ismail the room.